Kongkretebass "KONGKAST BIG 100" Bash – feat. GOTH-TRAD (Deep Medi Musik/ Tokyo) @ Backstage, HK – Sat, 26.09.2009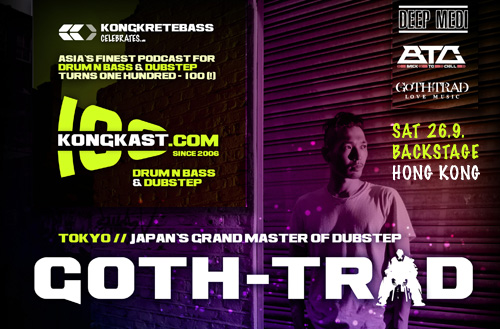 KONGKAST is 100! Our immensely popular podcast that was started by Kongkretebass DJ Wash 3 years ago, is going to see its 100th episode broadcast to the world this September.
In celebration of the KONGKAST BIG 100, we're throwing ourselves a party here in Hong Kong. And you're invited!
Our very special guest for this night is GOTH-TRAD. Considered to be Japan's Grandmaster in electronic dub music, GOTH-TRAD has released numerous tracks on both Japanese and European labels, including Mala's mighty Deep Medi Musik label. As an ambassador for the Asian sound he is highly recognised internationally – and to date is the only Asian artists to be invited to play at the UK's legendary DMZ – the original dubstep parties.
We don't need to tell you that this is going to sound massive!
++++++

KONGKRETEBASS.COM proudly celebrates:
KONGKAST BIG 100 – ASIA'S DJ PODCAST FOR DRUM & BASS AND DUBSTEP MUSIC TURNS 100!
WITH SPECIAL GUEST:
GOTH-TRAD (DEEP MEDI MUSIK, BACK TO CHILL/ JAPAN)
At BACKSTAGE, HK
Saturday, 26. September 2009
WITH SUPPORT FROM:
DJ WASH & ELECTRONIC MISTRESS (Kongkretebass)
BLOOD DUNZA (Heavy), N1D Vs ZUJU (Heavy), DJ ASAYO (Japan – it's her HK debut!)
Mc Capas & Video by Ocular
VENUE ADDRESS:
BACKSTAGE – 1F, 52-54 Wellington Street, Central, HK
(52 – 54號中環威靈頓街1樓) Tel: +852 2167 8985
(-> It's located just around the corner from Lan Kwai Fong. View map here)
ENTRY:
HK$150 (before midnight) / HK$180 (after) – both incl. 1 free drink
Doors Open 10.30PM – 5AM
For more information:
http://www.kongkretebass.com
http://www.myspace.com/gothtrad
FACEBOOK EVENT:
http://www.facebook.com/event.php?eid=122852115425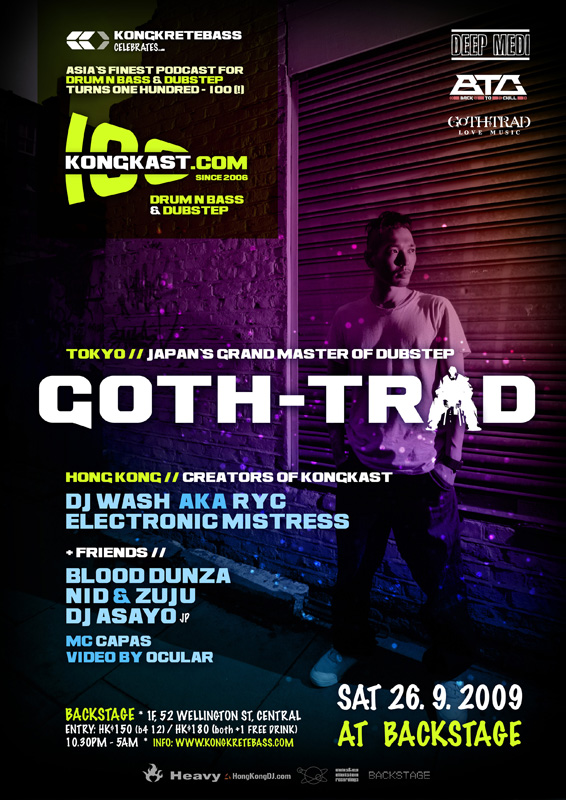 +++++
ABOUT GOTH-TRAD (Deep Medi, Skud Beat, Back To Chill/ Japan)
"Japanese badman from day dot, Goth-Trad is one of the most interesting artists and producers we've seen or heard in a long time. He has a bright future ahead of him." ATM Magazine (UK)
Widely regarded as Japan's premier dubstep talent, production veteran Takeaki Maruyama (Goth-Trad) has spent the last ten years experimenting with techno, jungle and drum & bass, and is currently running the monthly dubstep and grime night, Back To Chill in Tokyo. With his ever-growing international reputation, thanks to releases on Deep Medi Musik, Scud Records and Soul Jazz, Goth-Trad is rapidly becoming recognised internationally, embarking on frequent European and UK touring. It will be his Hong Kong debut for Kongkretebass Kongkast Big 100 this September.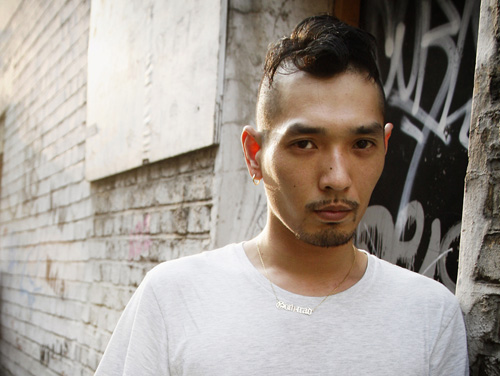 A unique producer with a unique style, Goth-Trad (of Rebel Familia) has emerged from the Japanese electronic scene in the last few years as one of the most arresting artists from his generation. Freely playing samplers, keyboards and even self-made instruments, 'The Sound Originator' Goth-Trad creates remarkable dance music with an abstract approach.
Goth-Trad started making music in 1998, experimenting on his own at first before eventually forming the Rebel Familia unit in 2001 with Takeshi 'Heavy' Akimoto (ex-member of Dry & Heavy, a legendary Japanese dub and reggae act).
In the years that followed he continued to develop his own sound alongside that of Rebel Familia, giving himself diverse avenues in which to experiment with different sounds, styles and structures.
From abstract electronica to noise, from dub and reggae to jungle and rave music, grime to dubstep, Goth-Trad has always experimented and in the process developed his own unique style: blending influences and delivering music that is constantly evolving.
From 2001 to 2004 Goth-Trad burst out of the Tokyo underground and put his name on the map with his first European tour, the release of his first solo album, 'Goth-Trad I', showcasing his amalgamation of sounds and influences developed over the years, and by opening for The Mars Volta during their 2004 Japanese tour.
http://www.myspace.com/gothtrad
http://www.discogs.com/artist/goth-trad
——-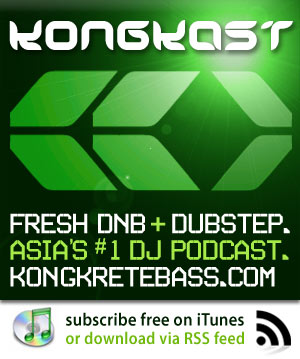 Since 2006, KONGKAST has flourished and grown to become Asia's number one source for fresh dnb and dubstep DJ mixes. Tens of thousands of listeners enjoy the bass packed KONGKAST mixes EVERY week. From exclusive guest mixes by the scene's heavy-hitters to exposing Asia/ Oceania emerging talents – KONGKAST never fails to shake up your bass bins.
Posted: August 20th, 2009 under Drum & Bass, Dubstep, Gigs in HK.
Comments: none