More future beats at 'SONIC STEP SISTERS' this May!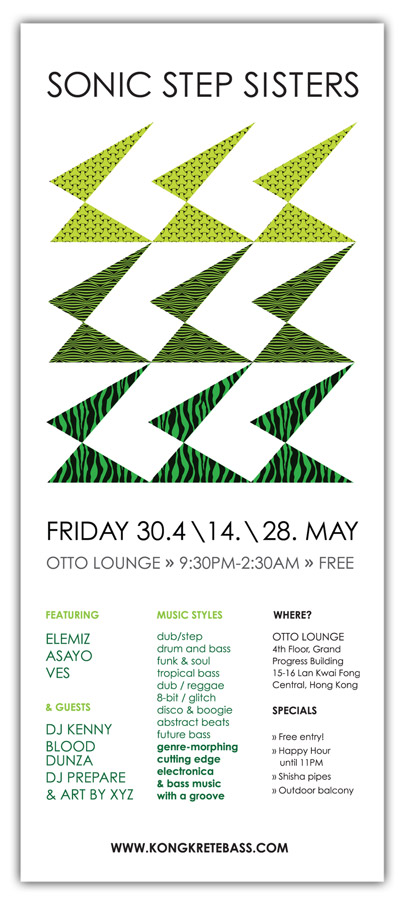 More future beats coming your way at 'SONIC STEP SISTERS' this May! We're getting to know you better and are chuffed with the love and support you've been showing us at our past 4 sessions.
We have 2 more delicious evenings in store for you this month – with the dubwise sounds of VES, broken beat of ASAYO, and contemporary bass music of ELEMIZ. Plus 2 exciting guests – who we think are perfectly tuned for the SONIC STEP SISTERS concept. (Read more below!)

Friday, 14th May 2010
SONIC STEP SISTERS with DJs VES, ASAYO, ELEMIZ
+ guest DJ BLOOD DUNZA (Heavy, Crazy Lion / HK)
Facebook event here
&
Friday, 28th May 2010
SONIC STEP SISTERS with DJs VES, ASAYO, ELEMIZ
+ guest DJ PREPARE (Fu©king Music / HK)
Time: 9.30PM – 2.30AM (We start & finish early!)
Entry: FREE ENTRY
Specials: Happy Hour til 11PM \ Shisha (Hokkah) Pipes \ Outdoor balcony
Address: OTTO Lounge (4/F, Grand Progress Building, 15-16 Lan Kwai Fong, Central, HK / Tel: 6102 6660) View map here.
✘ Music styles:
Dubstep \ Tropical \ Future garage \ Kuduro \ Abstract hip hop \ Funk \ Dub \ Reggae \ Drum and bass \ UK Funky \ Bare Bass \ Glitch-hop \ … genre mutating bass music (that nobody knows the names of)
ABOUT OUR GUESTS – this May
——————————————————–

BLOOD DUNZA (✘ Friday, 14th May – Abstrakt, 8-bit, glitchy beats)
… is a Hong Kong grown musician, DJ and producer. He is also known as the master mind behind the HEAVY sound system which recently celebrated 4 years of pushing Reggae, Dubstep and Drum & Bass sounds to mass-enjoyment. Besides show-casing international guests, his events have also always offered a platform for fresh DJs breaking into the scene.
In the past years, BLOOD DUNZA has taken his music to cities allover China, Singapore and Taiwan, with Dj performances best known to be ranging from fast-pace, techy, dance-floor geared drum and bass sets to vibing dubwise and reggae sounds.
We're pleased to have lured BLOOD DUNZA to SONIC STEP SISTERS on May 14th, where he'll be stepping up with a completely different set of abstrakt, 8-bit influenced, glitchy bass beats. Get to know!

DJ PREPARE (✘ Friday, 28th May – glitch-hop, future beats, chilled dubstep)
… cut his teeth as the party DJ in clubs across Swansea / UK. In the 6 years of spinning and perfecting his technique to a fine art, he has performed alongside: Dj Format, Dj Vadim & Yarah Bravo, Fingathing, Headcase Ladz, Klashnekoff & Dj Skully, Lazymuthafuckaz, Mark Rae, Scratch Perverts, … and more. Upon his return to Hong Kong, DJ PREPARE teamed up with MC YAN's Fu©kin Music crew, and has been collaborating and performing on numerous music projects on record and on stage since.
("I first caught DJ PREPARE on-air whilst listening to independent Hong Kong 'Radio Dada' last year. In one of the shows he presented some UK bass sounds including Dubstep. Intriguing enough for me at the time, as – in a scene the size of ours – like minded bass lovers cross paths easily, but we hadn't…" ELEMIZ)
For SONIC STEP SISTERS on May 28th, DJ PREPARE will be bringing a selection of glitch-hop, future beats and chilled dubstep to the floor. Beats & Bass – Precious! – Free Fu©kin Music mixtapes: http://fkmusic.org/fuckinmusic.html

3 GIANT PAINTINGS by XYZ
… continue to be on display at our venue, Otto Lounge, during the SONIC STEP SISTERS events. The art works have been specifically created for our music nights by street/artists Olgierd Nitka aka XYZ. – http://www.dimmsumm.com
———————————————
'SONIC STEP SISTERS' residents
———————————————
Electronic Mistress and the DJs behind 'SONIC STEP SISTERS' already are familiar faces in HK's nightlife, with years of involvement in local scenes.
Those who've been keeping an ear close to the ground in Hong Kong will have encountered these ladies many times. Either hosting one of their own club nights, rocking out behind the turntables or chilling out at friends' gigs, bullying people to make them dance.
Now they fuse their magic powers as allies for the 'SONIC STEP SISTERS' project, a casual evening of social music listening and cosmic groove! They count on your uncompromised, passionate support.
To read more about ELEMIZ, VES and ASAYO please see our previous post about SONIC STEP SISTERS.
❥❥❥
$✿n!c $tєp $!śT3яz
❥❥❥
Inquiries: info[a t]kongkretebass.com
Posted: May 3rd, 2010 under Drum & Bass, Dubstep, Gigs in HK, News.
Comments: 1
Comments