KONGKAST #115 – FEAT. J-Path (Junglist/ Seoul, Korea) ONLINE NOW!

KONGKAST number 115 returns with more exciting Asian flavours. This week's Dj mix features the sound of South Korea's favoured drum and bass soundbwoy, J-PATH.
J-Path is an ambassador of Seoul's electronic music scene. Within the past 6 years, J-Path has been bringing his sought-after Drum and Bass sound to club nights as well as larger music festivals in South Korea, whilst some of his own tracks have earned air-time in the UK on Dj Flight's BBC 1xtra show and Goldie's Metalheadz podcast. Apart from mixing and producing drum and bass, he's also got his hands in musical collaborations with local Korean artists of other genres.
J-Path's mix for KONGKAST boasts a number of his latest quality productions – get to know!
Big Up to J-PATH for repping his sound exclusively on this week's KONGKAST – Asia's drum n bass and dubstep podcast.
Directly download enhanced m4a File (with track markers and pictures) – here
Directly download MP3 File – here

Subscribe to KONGKAST in iTunes – and receive all future and past KONGKAST mixes – it's FREE!

TRACKLIST:
KONGKAST #115 – FEAT. J-PATH (Junglist/ Seoul, S. Korea)
(Artist – Track – Label)
1. J-Path – Lost Emotion (dub)
2. Kharm – Second Thought (Dispatch)
3. Spectrasoul – Guardian (Metalheadz) 4. Noisia feat. Joe Seven – Hand Gestures (Vision)
5. J-Path and MC LowQui – Anima (dub)
6. Rockwell and Zero T – Bone Structure (Critical)
7. Calibre – Hard Times (Liquid V)
8. Engage – Helium (Hospital)
9. Blue Mar Ten – Closer (BMT)
10. J-Path – Deep Breath (dub)
11. Q Project – In 2 Deep (CIA)
12. J-Path – Simple Choice (dub)
13. Subterra – Celestial (Frequency)
14. Calibre –  Jack Off (Samurai)
15. J-Path – Broad Stroke (dub)
16. Spirit – SHK (203 Music)
17. Naibu feat. Kiyomi – Fireflies (Seba Remix) (Horizons dub)
18. Naibu – Back Engineering (J-Path Remix)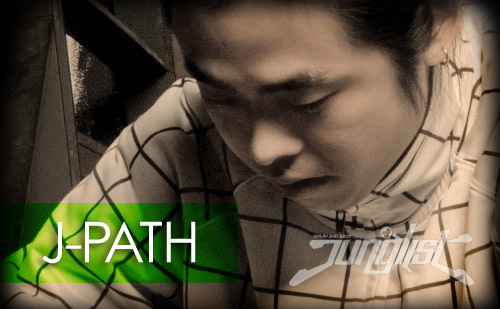 About J-Path
http://www.myspace.com/jpath1105
J-Path has the drive for music in his veins. Bred and fostered in several parts of the South Americas, this multi-lingual talent has come back to where his ancestors hail from, South Korea, to create something different.
In the past 6 years, J-Path (aka Jung Park, aka Kilpatrik) has put in the hard yards and tapped into a musical conscience, now extending his skills to work with local Korean artists in varying styles.
Early into 2006, a tune on which he was collaborating with DJ Hydro (Fuze/Quarantine) made it into the hands of drum and bass' leading lady DJ Flight (on BBC 1Xtra, UK) and received airplay and recognition. More recently, his remix of Naibu's "Back Engineering" was featured and highly praised by Goldie on the Metalheadz podcast.
Since then J-Path  has been producing tracks for Korean pop artists and with several releases through: Bobby Kim, Masta Wu (YG), Mr. Tyfoon and Diva with many other projects currently on play.
As a DJ, J-Path has graced the decks alongside some of DnB's heavies: Goldie, Grooverider, Andy C, Friction, LTJ Bukem, DJ SS, Makoto, Doc Scott, Storm, Fresh, Shimon, Marcus Intalex, Commix, Lynx, Roni Size, Klute, Blame, London Elektricity, Matrix, Futurebound, Dieselboy, Utah Jazz, Black Sun Empire, Danny Byrd, Stamina MC, MC Deeizm, MC LowQui, MC Rage, Dynamite MC and MC Messinian.
Also: Club Karma sourced J-Path and invited him to join the UK's Calibre and MC DRS on their Japan trek through Osaka late 2005, on Calibre's Second Sun Tour.
In Seoul, aside from holding down a residency at Club Cargo (now Club Mansion) at both the Junglist Events and Konkrete Jungle Seoul, J Path is often called upon to represent the genre and DJ at the larger festivals like Pentaport Rock Festival, The World DJ Festival, Jisan Rock Valley Festival, and Global Gathering Korea.
Currently, between spinning at parties in and around Seoul (also occasionally Busan) and organizing events, J Path is continuing to build an arsenal of beats covering all styles of music and further extending his capabilities.  His production ability and output of sophisticated pieces is persistently causing a stir of respect amongst other enthusiasts in the circles in Seoul, and can't be pinned down or pigeonholed for a moment.
J Paths' approach to production is to extract all the experience and influences he has gained in his life to date and translate it in a way that is distinctly fresh and cohesive to a changing scene.
This year sees him preparing to release his first album, a remix project of a collection of Windy City songs (a local Korean reggae band).

Audio clip: Adobe Flash Player (version 9 or above) is required to play this audio clip. Download the latest version here. You also need to have JavaScript enabled in your browser.
Posted: May 16th, 2010 under Drum & Bass, Tunes & Mixes.
Comments: none