FUT:R ✖ DOSHY (Rwina Records, Planet Mu) & DJ WASH (Kongkretebass) ✖ 10.02.2012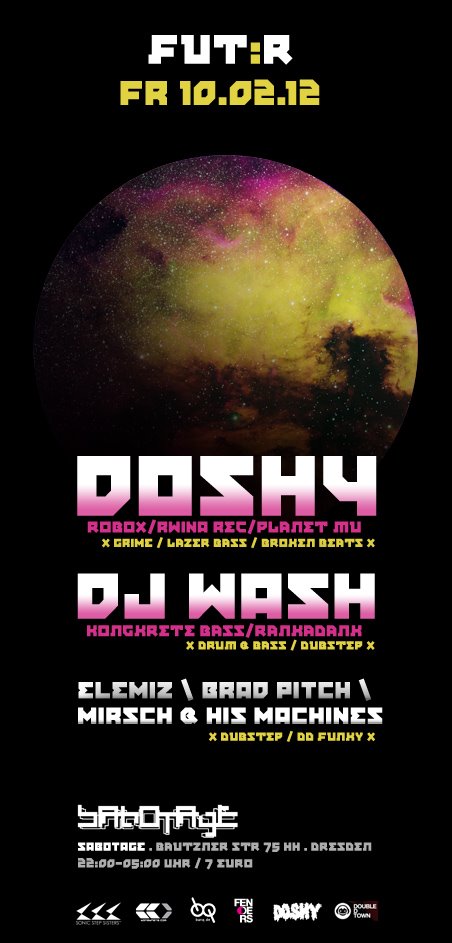 FUT:R ✖ DOSHY (Rwina Records, Planet Mu) & DJ WASH (Kongkretebass) ✖ 10.02.

►Facebook Event + Full info// http://www.facebook.com/events/273651176025388/
► VENUE
SABOTAGE, DRESDEN
Bautzner Strasse 75 HH, Dresden-Neustadt, Germany
► TIME / ENTRY
Time: 22:00 – 5:00 Uhr // Entry: 7 Euro
► LINE UP
✖ DOSHY, BERLIN'S FRESHEST POST-DUBSTEP TALENT
(Robox Neotech, Rwina Records, Planet Mu/ Berlin)
✖ DJ WASH, CHINA'S DRUM AND BASS HEAVYWEIGHT
(Kongkretebass, Rankadank/ Hongkong)
✖ BRAD PITCH
(DD Funky)
✖ MIRSCH and HIS MACHINES
(DD Funky)
✖ ELEMIZ
(Kongkretebass, Sonic Step Sisters)
Artist information below: 
————————–————————-
DOSHY:
>> One of his last gigs this winter in Germany (and for the first time in Dresden) before moving to China! <<
A look at Doshy's website reveals a rather horrifying flashing .GIF wallpaper, and the decidedly unsubtle, blinding and even offensive nature of it all nicely delineates his music – dude isn't afraid to be vivacious. Based in Berlin, he's been making music for at least ten years, he's a self-described lover of "colours," which comes through in his playful but weighty productions.
His earlier releases came on small niche labels like "Destpub" and his own "Robox-Neotech", and his debut for "Rwina" was essentially a coming-out event, earning lavish praise from FACT and Sonic Router among others, also the big international DJ's had this one for quite a while in their playlists. Straining italo horror influences on the Goblin-inspired "Suspiria," it's at once a stunning and faithful interpolation of unusual tropes into a dubstep template and so well-produced it wouldn't be any less great even if it weren't so innovative.
High production values, a deeply-ingrained sense of melody, and playful experimentation all make for one hell of a producer. Be on the look-out for his second EP on Amsterdam's Rwina, dropping this January, expect fresher and on-point music from this German beat maestro!
————————–————————-
DJ WASH:
>> Welcome back! Returning to Dresden, and moving to Europe! <<
DJ Wash is Dj, producer and co-founder of Kongkrete Bass, best known internationally for producing KONGKAST – Asia's number one DJ podcast, and being an established promoter of drum and bass/dubstep events in Hong Kong.
Grown and fostered out of a hip hop and breakbeat scene in Sydney Australia before landing in Hong Kong, DJ Wash has developed his signature style behind the decks in more than 10 years of DJing. He his renowned for his rolling and dynamic sets, precise mixing skills and fusing a diverse spectrum of Drum & Bass and Dubstep – easily setting dancefloors ablaze all over the show.
As an avid producer, DJ Wash continues to push his studio work with productions and remix projects of his own deep, dark, tech-style sounds. His latest productions have been making some serious waves and getting airplay across the board. His banging debut double single "Repulsion"/ "Division" was released on Shanghai-based Rankadank Records last October.
Posted: January 14th, 2012 under Drum & Bass, Dubstep, Gigs out of town, News.
Comments: none