KONGKRETEBASS goes Shanghai! SubCulture Presents: SOUNDCLASH! Sub-Culture Vs Kongkretebass Vs Phreaktion @ The Shelter – 24th January 2009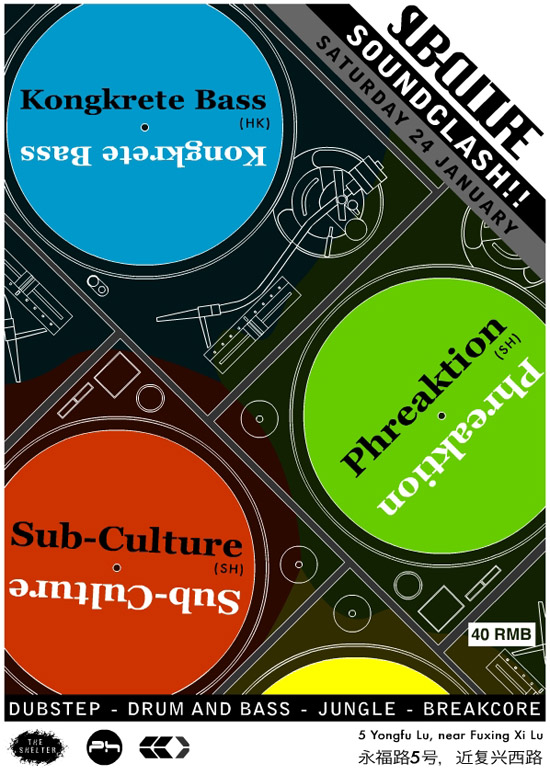 Kongkretebass does the Sub-Culture: Soundclash!!
Saturday 24th January 2009 – Sub-Culture feat. Kongkretebass & Phreaktion
Venue: THE SHELTER, Shanghai
"For the first Sub-Culture of 2009 we thought we would start things off right with a battle of the titans, a 3 crew showdown between ourselves, Shanghai's own Drum and Bass legends Phreaktion, and the notorious Kongkrete Bass from Hong Kong!" (Subculture, Shanghai)
Sub-Culture: dji, Deville, Drunk Monk, MC Didje
Formed in December 2007, Sub-Culture is the dark side of Shanghai's Uprooted Sunshine Soundsystem. Concentrating on heavy sub-bass of all kinds, Sub-Culture have performed along-side heavy weight acts such as The Bug, Goth-Trad, DJ Pitchin and N1D. Expect big Dubstep sounds!
Phreaktion: Siesta, Viceroy
Phreaktion's head honcho DJ Siesta needs no introduction. A true pioneer of Drum and Bass in Asia, Phreaktion have been going longer than any other crew around. Starting off in Hong Kong and then spreading up to Shanghai, Phreaktion has played host to pretty much every big player in the scene, including Goldie, LTJ Bukem, DJ Hype, DJ Marky and London Electricity.
KongkreteBass: DJ Wash, Blood Dunza
Formed in 2006, Kongkrete Bass has sent shockwaves throughout the asian DnB scene. Their weekly podcast, KongKast, has built it self as a reputation like no other in Asia, with high profiles Producers, DJs and Labels on taking part in the providing quality mixes. The recent coverage of Kongkast on BBC Radio 1's Drum and Bass show with Fabio – as 'Podcast of the week' (05/2008) and also in Knowledge Magazine as 'Podcast of the month' (Issue#102, 09/2008), has elevated Kongkretebass into the international stages.
MORE INFO:
facebook event – http://www.facebook.com/inbox/readmessage.php?t=1064397938558&f=1&e=-12#/event.php?eid=55654173593
Posted: January 12th, 2009 under Gigs out of town, News.
Comments: none