Kongkast #77 ft. Alley Cat (ESP, Reinforced, Feline/ UK)
Welcome back to the Kongkretebass Kongkast and KUNG HEI FAT CHOI!
Our first guest mix in the Chinese 'Year Of the Ox' comes exclusively from one of the busiest ladies in the London drum and bass scene, Dj Alley Cat.
As a DJ, producer, booking agent and resident of Feline, a monthly London club-night run by all-female dnb collective of Mc's and DJs, Alley Cat is surrounded by music 24/7. For the 77th episode of KONGKAST, Alley Cat shares with you (in her own words) "a slice of what touches [her] soul at this moment". A mix of deep dnb with plenty of dubz from around the globe and a couple of her own…
Many thanks to Miss Alley Cat for putting together this special selection for KONGKAST – Hong Kong's dnb podcast!
Subscribe to KONGKAST in iTunes – FREE!
Or download directly from our website under KONGKAST
NEW! Download enhanced m4a File (with track markers and pictures) – HERE
Download MP3 File – HERE
Track listing and more about DJ ALLEY CAT below…


TRACKLIST//
KONGKAST #77 – ft. ALLEY CAT (ESP, Feline, Skunkrock, Reinforced/ UK) – exclusive studio mix
1. Blu Mar Ten – Above Words
2. D Bridge – Wonder Where (Exit)
3. ASC – Caesium (Vampire)
4. Danger Inc – Homework

5. Alley Cat – Drum'n'Lace
6. Lynx & Kemo – Dangerous (Soul : r)
7. Kiat – Dub Vader
8. Bal – Marquee Moon (Influence)
9. Data – Vice (Metalheadz)
10. Blue Mar Ten – If I could Tell You
11. Soul Intent – Release
12. Alley Cat – Sweet Spot
13. Calibre – Ringtone (Samurai Music)
14. Sato – Scorched
15. Instra:mental & D Bridge – Translucent (Darkestral)
16. Dan Habernam – The Flower (Play:music)
17. Naibu – Newport (Soul:r)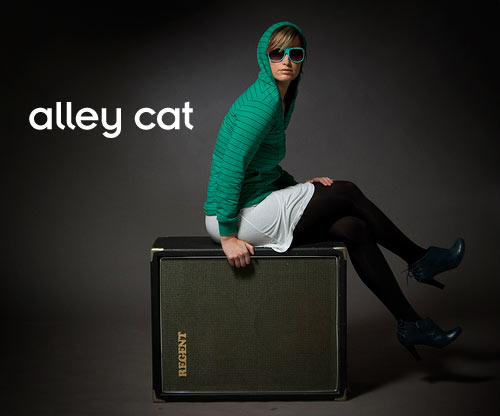 About Alley Cat:
Alley Cat landed in the UK nearly a decade ago to help out at the Skunkrock Productions headquarters in London. At the time she helped to build up the label's name as a producer, touring DJ, and label A & R / promoter.
Now in her 11th year of Djing she has gone from Skunkrock label rep to a known DJ in her own right. Having frequented gigs in Europe for 9 years, and holding a residency at Berlin's Icon Club for over 8 years, she's still finding new places to present her sound every season. Internationally she has graced the decks in no less than 28 European countries as well as all over North America, in South Africa and even Israel. Some of the most exotic destinations include, Honolulu, Reykjavik, Johannesburg, Bucharest, Lisbon and Tel Aviv.
2008 has been a busy year for Alley Cat, with the Feline project (club nights in London & abroad), a return to production, her job as bookings admin at ESP Agency, and DJ gigs across the globe.
Links:
http://www.myspace.com/djalleycat
http://www.esp-international.co.uk
Alley Cat facebook fan page
Audio clip: Adobe Flash Player (version 9 or above) is required to play this audio clip. Download the latest version here. You also need to have JavaScript enabled in your browser.
Posted: February 8th, 2009 under Drum & Bass, News, Tunes & Mixes.
Comments: 1
Comments