Kongkast #78 – New Episode with DJ Wash online now!
KONGKAST#78 – new podcast episode with DJ Wash (Kongkretebass, Hong Kong)

DJ Wash is back this week with a mixed drum and bass selection. A few unreleased tunes from our good friends at the Mainframe Recordings camp, a couple of bootlegs from Sydney producers to get you moving, and, as always, we bring you a good mix of the spectrum in this KONGKAST edition. Enjoy!
The new enhanced podcast is now in full swing of things, try it out. Subscribe to KONGKAST on iTunes to get the full features.
Stay tuned with KONGKAST – Asia's #1 dnb podcast! New episode every week for free download from www.kongkretebass.com or iTunes.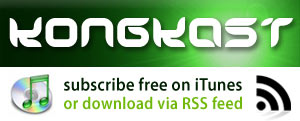 Subscribe to KONGKAST in iTunes – FREE!
Or download directly from our website under KONGKAST.
NEW! Download enhanced m4a file (with images and track markers) – HERE
Download MP3 File – HERE

TRACK LIST//
KONGKAST #78 – by DJ Wash (Kongkretebass, Hong Kong)
1. MosDef – Travelling Man (First Grandson Remix) Bootleg
2. Altered Statesmen (Twinhead + Tobe) – To The Stars (Dub)
3. Ritual – Conscious Dub
4. A.I. – Days OF Rage
5. Henree and Eveson – Superstition
6. Subterra & Dekko – Eclipse
7. Miss RedFlower – Here to Fly (Mista Remix)
8. Spirit – Connected
9. ES9 and Sonic – Acceleration (Dub)
10. Trei – Too High
11. Total Science – SOS
12. Spirit – Fantasy
13. Apex – Lock On
14. Hydro and Mindscape – Skid Row
15. Nice, Ferice and Break – Empire
16. State of Mind – Attention Deficit
17. Upbeats and State of Mind – Deviants
<<< Hive – Neo VIP
18. Camo and Krooked – Dakota (Mainframe Recordings Dub)
19. Streets – ??? (DJ Disaszt Bootleg)
20. CrystalClear and Cabbie – StreetHwak
21. Camo and Krooked – Vampires (Mainframe Recordings Dub)
22. Shimon and DJ Disaszt – Zoids (Mainframe Recordings Dub)
23. DJ Disaszt – Oh My Dear 2009 (Audio Porn / Mainframe Recordings Dub)
24. ??? – FreddyFred Remix (Dub)
25. Commix – Underwater Scene
26. Instra:mental – Hunter
Audio clip: Adobe Flash Player (version 9 or above) is required to play this audio clip. Download the latest version here. You also need to have JavaScript enabled in your browser.
Posted: February 15th, 2009 under Drum & Bass, News, Tunes & Mixes.
Comments: none