KONGKRETEBASS SUPPORTS: Heavy! 3rd Anniversary – Sat, 21th March 2009 @ Backstage Live, HK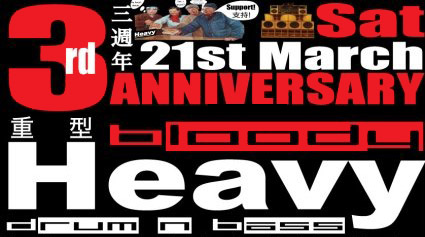 Our friends, the HEAVY sound system is turning THREE!!!! Three years of heavy bass, heavy drums and HEAVY MUSIC! Since the beginning of Heavy, Kongkretebass has shown support to his diverse music crew, from Drum and Bass to Dubstep, Heavy has been seen as one of the top playerz in the underground music scene in Hong Kong.
DJ Wash and Electronic Mistress will again be supporting the Heavy event – with a Low Frequency Dubstep set by none other than Kongkretebass' Electronic Mistress and a Back to back session by DJ Wash Vs Blood Dunza. this 3rd Year Anniverary.
Heavy 3rd Anniversary event info:
Heavy 三周年- Heavy HK 3rd Anniversary
三年來我們Heavy對香港地下電音的低音部份作出過小小的貢獻. 從極重型的Drum and Bass 進化到現在每月的Dubstep Forward.
答謝大家三年來的支持.在三周年當晚會送出多份禮物!
包括Heavy Mixtape 01 – 由Heavy 的 Kastoacha, N1D, Blooddunza 作主力, 加上好友Kongkretebass 的Dj Wash + Electronic Mistress 和Reberath 的作品所組成Mixtape . 以140 BPM以及過量的低音為前題. 展示一下過去一年努力的成果, 推廣一下本地創作.
以及Heavy 限量 T-Shirt + 貼紙本
3 years of our humble offer to the HK underground music scene, from heavy DnB evoluted to now monthly Dubstep event.
We are giving out free gifts to people, whose have been supporting us.
Heavy Mixtape01 Laucnch – A 30 minutes mini mix of Heavy home made tunes from producers : N1D , Blooddunza , Kastoacha and featuring good friends Kongkretebass: DJ Wash+Electronic Mistress and Rebearth.
Free Limited T-Shirt and Stickers
2 Mixers 4 Dex – 4 hours of DnB
兩個Mixer + 4 個唱盤
Line-up (Drum and Bass):
Stef:funn (Heavy) VS Teem (Magneticsoul)
Kastoacha (Heavy) (Heavy) VS SYNERTIA
BloodDunza (Heavy) VS DJ Wash (Kongkretebass)
Le Lebertin(SulFuriK Records
And Introducing DJ Darkside (H.K)
Line-up (Dubstep):
N1D (Heavy)
Electronic Mistress (Kongkretebass)
Sannja (Heavy)

Venue:
Backstage Live (1/F Somptueux Central, 52-54 Wellington Street, Central)
Doors open: 10PM – late
Entry: $100 before 12:00 / $120 after 12:00 (including a bottle of beer)
More information:
www.myspace.com/heavyhongkong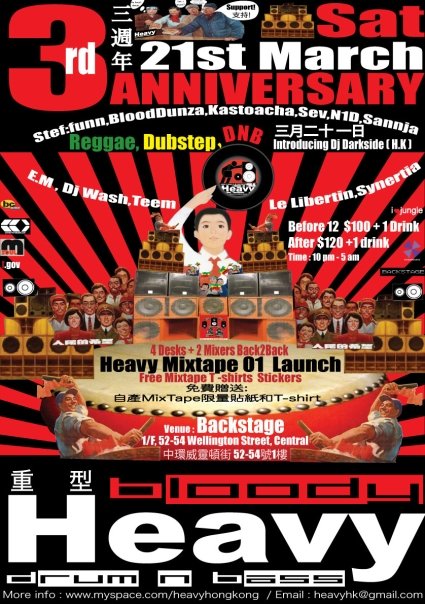 Posted: March 13th, 2009 under Gigs in HK, News.
Comments: none