KONGKAST#82 – feat. DJ Deville (Uprooted Sunshine Shanghai/ Switzerland) – Dubstep Kongkast

This week on Kongkretebass Kongkast – KONGKAST #82 delivers a heavy Dubstep mix straight out of Shanghai China.
DJ Deville (Uprooted Sunshine Shanghai) is one of the leading Dubstep Deejays based in Shanghai. Playing some of the heaviest dance floor fillers at his residency club (one of Kongkretebass' favorite clubs in Asia) THE SHELTER.
DJ Deville – originally from Geneva, Switzerland, has been heavily involved in the Funk and Hip Hop scene since 1997.Since moving to China in 2006, he has been spotted playing at various big venues and festivals such as The Shelter (Club) and Modern Sky Festival.
As a resident Deejay for the "UpRooted Sunshine Crew" in Shanghai, Deville as supported some of the biggest names in reggae, funk, hip hop and dubstep scene.
Many thanks to DJ Deville for bringing this special Dubstep set to KONGKAST – Hong Kong's dnb podcast!
Listen in and enjoy. Turn up your speakers – the louder the filthier!
Subscribe to KONGKAST in iTunes – FREE!
Or download directly from our website under KONGKAST
NEW! Download enhanced m4a File (with track markers and pictures) – HERE
Download MP3 File – HERE
Track listing and more about DJ Deville below…


TRACKLIST//
KONGKAST #82 – feat. DJ Deville (Uprooted Sunshine Shanghai/ Switzerland)
1.    Rustie – Tempered
2.    Quarta 330 – Sabacco
3.    Zomby – Aquafresh
4.    Joker – Digidesign
5.    The Bug – Skeng (Kode 9 Remix)
6.    Skream – Hedd Banger
7.    Millie and Andrea – Black Hammer
8.    Clouds – Under The Dancing Feet (Tes La Rok Remix)
9.    Skream – Dutch Flowerz
10.    Nero – Bad Trip
11.    16 BIT – In The Death Car
12.    Akira Kiteshi – Pinball
13.    Benga – Night
14.    Kode 9 – Bad
15.    Peverelist – Clunk Click Every Trip
16.    Clouds – Elders (Wadadda Refix)
17.    Gemmy – Bass Transmitter
18.    Desto feat. Mindman – One Ting
19.    Uncle Sam – Round The World Girls ( Tes La Rock VIP Mix)
20.    RSD – Over It
21.    Zomby – Memories (Darkstar Remix)
22.    Joker and Rustie – Play Doe
23.    Massive Music – Find My Way (Kode 9 Remix)
24.    La Roux – In It For The Kill (Skream's Let's Get Ravey Remix)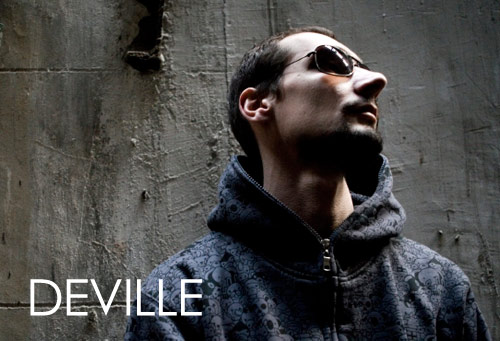 About DJ Deville (Uprooted Sunshine Shanghai/ Geneva, Switzerland)
Born and raised in Geneva, Switzerland, Blaise Deville (or "DJ Deville") starts mixing Hip Hop for the local underground squat scene in 1997. Two years later, under the name "Zebra 3 Connection" he successfully launches the "Starsky & Hutch" Funk & Hip Hop events, in cooperation with his friend DJ Huggy Bear and holds it as a regular party during three years.
In 2002, he begins deejaying in more mainstream clubs and bars of Geneva experimenting with Dancehall and Electro. He also takes part in the "Bug Talk Zoo" radio show on the internet radio www.basic.ch from 2003 to 2004. He leaves Europe for Shanghai in early 2006 to bring his love for music to the local audience.
Blaise Deville already played in numerous venues in Shanghai (BonBon, LOgO, The Shelter, Volar), in Beijing (Club Tango, Yugongishan) and all around China. He took parts in bigger events such as the Fake Flake 2007 new year eve's party at the Zendai museum or the Modern Sky festival in Beijing. He is part of the PAUSE collective, a member of the Uprooted Sunshine crew, one of the only Reggae Sound Systems in China and a resident DJ of Sub-Culture, Shanghai's very own party dedicated to Bass. Besides that he still frequently spins Hip Hop & Funk for the Lab crew and sometimes plays Electro sets for the Antidote parties.  Before ending up focusing on deejaying, Blaise Deville played guitar for rock bands. Since then, he developed a love of Music, no matter the genre, which is why he likes his sets eclectic and unexpected. Above all, he enjoys creating his own specific universe in which he can bring and entertain the audience.
Links:
http://www.myspace.com/blaisedeville

Audio clip: Adobe Flash Player (version 9 or above) is required to play this audio clip. Download the latest version here. You also need to have JavaScript enabled in your browser.
Posted: March 22nd, 2009 under Dubstep, News, Tunes & Mixes.
Comments: 2
Comments