KONGKRETEBASS SUPPORTS: Heavy! feat. GREG G (7even Recordings /FR) – Sat, 2nd May 2009 @ Ivan The Kozak, HK

Heavy starts May with yet another heavy hitting event! Dubstep and Drum and Bass sets supported by Kongkretebass' Electronic Mistress and DJ Wash.

Heavy Presents: GREG G (7even Recordings /Fr) @ Ivan The Kozak
One of the French Original Dubstep Deejays and Boss of the most up and coming French label '7even Recording. Providing Unique sound that influenced by Dub , techno ,Garage.
Line-up (Dubstep)//
GREG G (7even Recordings)
Electronic Mistress (Kongkretebass)
Dj Zuju (Macau)
N1D (Heavy)
Kastoacha (Heavy)
Line-up (Drum and Bass)//
DJ Wash (Kongkretebass)
BloodDunza (Heavy)
Venue//
Ivan The Kozak
LG/F 46-48, Cochrane Street, Central
中環閣麟街46-48號地下下層
Entry//
HK$120 (incl. 1 drink)
Note from Promoter – We are moving to a new venue called Ivan the Kozak in central and promised lower drink price and better quality of drinks. Ivan's has a Eastern Europe Vodka Collection in his Ice Cold Snow room for this time will be $30 Per shot or 100 for 4 shots.
Drinks Specials//
$35 Drinks Speical
$40 Czech beer
More information:
www.myspace.com/heavyhongkong
www.myspace.com/gregg112
www.myspace.com/7evenrecordings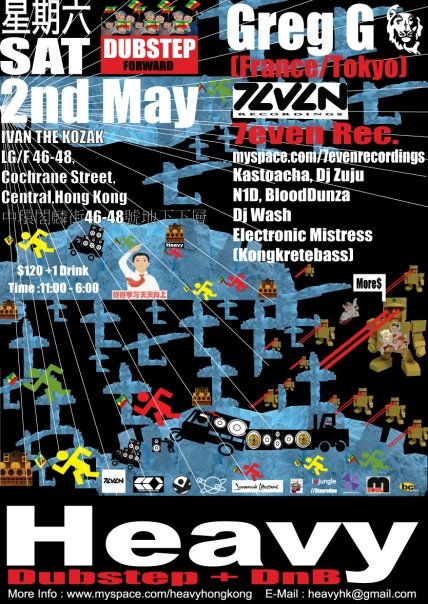 Posted: April 23rd, 2009 under Gigs in HK, News.
Comments: none