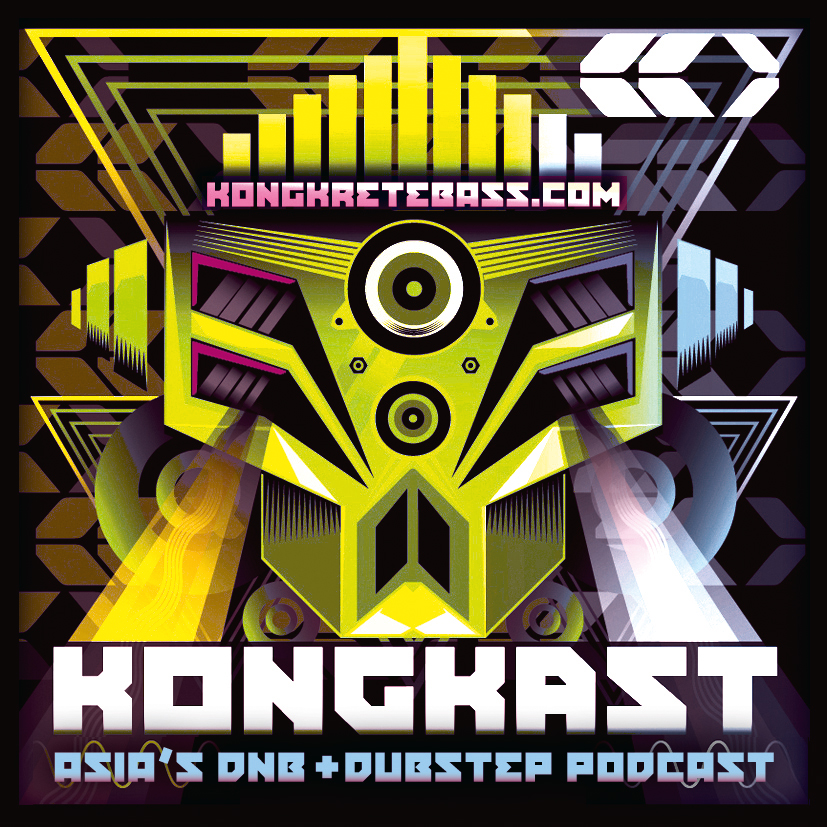 This is KONGKAST – Asia's dnb and dubstep podcast out of Hong Kong! We bring you fresh and exclusive DJ mixes twice every month, jam-packed with sickest tracks from producers around the globe.
You can download all KONGKAST mixes for free directly from our website www.kongkretebass.com, or subscribe via iTunes.
How to subscribe
Subscribing to KONGKAST is easiestin iTunes or any other music player with the RSS feed.
You can also download or stream all KONGKAST mixes as MP3s directly from the Kongkretebass.com blog, where we also post the full information about the featured artist and the track listings.

Send us your feedback
We like hearing from you! Send us love letters or recommend a DJ/producer that should be on KONGKAST.
Write to DJ Wash: info[at]kongkretebass.com
Or find us on facebook: http://www.facebook.com/KONGKAST
———————————————————————————————————————————-

KONGKAST – MP3 DOWNLOAD ARCHIVE
(for download via iTunes click here)
[2014]
kongkast_239 – 17/12/2014 <<< NEW on iTunes >>> – ft. DIGITAL (Ingredients Records, Metalheadz, Function / UK)
kongkast_238 – 07/12/2014 – ft. DEXTA (Diffrent Music / UK)
kongkast_237 – 19/11/2014 – ft. THE INVADERZ (Metalheadz, CIA, Commercial Suicide / UK)
kongkast_236 – 03/11/2014 – ft. MAGIC MIRSCH (N-ice / Dresden, Germany)
kongkast_235 – 29/09/2014 – ft. BANZULU (None60, SUB:CULTURE / Tallahassee, United States)
kongkast_234 – 06/09/2014 – ft. CYRILLA (Out of Mind / Berlin, Germany)
kongkast_233 – 27/08/2014 – ft. FADED GHOST aka ChaCha (SVBKVLT, Hyperdub, Jahtari / Shanghai, China)
kongkast_232 – 16/08/2014 – ft. FICTION (Inbound Records / Adelaide , Australia)
kongkast_231 – 06/08/2014 – ft. SLV (SVBKVLT / Shanghai, China)
kongkast_230 – 26/07/2014 – ft. MUNK (Airbourne / Sydney, Australia)
kongkast_229 – 16/07/2014 – ft. SILENT DUST (NONE60 RECORDS/ UK)
kongkast_228 – 02/07/2014 – ft. UPZET (OUT OF MIND, LUCID DREAMING, INFECTED / BERLIN, GERMANY)
kongkast_227 – 25/06/2014 – ft. STUDIO 17 (Dresden, Germany)
kongkast_226 – 14/06/2014 – ft. SOULFLARES (Cologne, Germany)
kongkast_225 – 04/06/2014 – ft. SLICK SHOOTA (Mad Decent, Apothecary Compositions, Loose Squares / Oslo, Norway)
kongkast_224 – 24/05/2014 – ft. SKYFISH (Neo Tokyo Bass / Tokyo, Japan)
kongkast_223 – 14/05/2014– ft. BRAD PITCH (Muti Music, Trap the System / Dresden, Germany)
kongkast_222 – 03/05/2014 – ft. Nez (+65 Drum & Bass / Singapore)
kongkast_221 – 21/04/2014 – ft. Amaning (BIOS, SGN LTD, Soul:R / Berlin, Germany)
kongkast_220 – 02/04/2014 – ft. Blackie (Syndicate / Beijing, China)
kongkast_219 – 22/03/2014 – ft. N1D (Ecstatic Bass / Macau)
kongkast_218 – 12/03/2014 – ft. AXON (Invisible Recordings, Proximity, Demand Records / UK)
kongkast_217 – 01/03/2014 – ft. PHIL TANGENT (Soul:R, Commercial Suicide, Samurai Music / UK)
kongkast_216 – 05/02/2014 – ft. SEMPER-FI (Foreigndub / Aus)
kongkast_215 – 25/01/2014-  ft. THING (Dubthing, Depthwise Music, Blu Mar Ten, 31 Records / Estonia)
kongkast_214 – 17/01/2014 -  ft. DLR (Dispatch, Metalheadz, Symmetry, Utopia, Shogun / UK)
kongkast_213 – 06/01/2014 -  ft. EASTCOLORS (Critical Music, Samirai Music, Hospital, / Russia)
[2013]
kongkast_212 – 27/12/2013  -  ft. FRANJAZZCO (Footwork Frenzy, Disko404, World Wide Juke / Vienna, Austria)
kongkast_211 – 13/12/2013 -  ft. Wash (Muti Music, Section 8, Rankadank, Free Love Digi / Hong Kong / Germany)
kongkast_210 – 04/12/2013 -  ft. WAYZ (STEAM Recordings / Hong Kong / UK)
kongkast_209 – 22/11/2013 -  ft. TASO (Hyperdub, Muti Music / SF, USA)
kongkast_208 – 13/11/2013 -  ft. DJ FU (FREERANGE, METROPOLIS /UK)
kongkast_207 – 01/11/2013-  ft.  Panda Lassow (ANUS Recordings / Rotterdam)
kongkast_206 – 12/10/2013 -  ft. Brad Pitch (Muti Music, Moose / Dresden, Germany)
kongkast_205 – 01/10/2013 -  ft. Young Ax (Sugaphonic Records, Santorin, Critical / Germany)
kongkast_204 – 23/09/2013 -  ft. FR33M4N (Bassliebe / Cologne, Germany)
kongkast_203 – 09/09/2013 -  ft. NexGen [Mixed by D.A] (NexGen Music Group)
kongkast_202 – 26/08/2013-  ft. DETAIL (C.I.A., Dispatch, Utopia Music, Symmetry / Ukraine)
kongkast_201 – 12/08/2013-  ft. Sleeper and District (Chestplate Records, Osiris Music UK, Artikal / UK)
kongkast_200 – 01/08/2013 -  ft. Flight (Metalheadz , Genre , Neighbourhood, play:musik , Rinse FM / UK)
kongkast_198+199 – 22/07/2013-  ft.  Wash (Section 8, Section 8 Bass, Rankadank, Robox Neotech, Free Love Digi / Hong Kong / Germany)
kongkast_197 – 10/07/2013-  ft.  Kantyze [Feubo and Knockoutz] (Fokuz, SOM Music, IM / LTD / France)
kongkast_196 – 29/06/2013 -  ft.  Bukez Finezt (Bassliebe Records, Bassclash, Prime Audio, Dubstar / Cologne, Germany)
kongkast_195 – 19/06/2013 -  ft.  The Next (Wob Wob / Hamburg, Germany)
kongkast_194 – 09/06/2013 -  ft.  Rebearth (Hong Kong)
kongkast_193 – 28/05/2013 -  ft.  Joe Syntax (Med School Music / UK)
kongkast_192 – 07/05/2013 -  ft.  MUNK (Airbourne / Sydney, Australia)
kongkast_191 – 28/04/2013  -  ft. OCTANE [of Octane & DLR] (DISPATCH, CORE / UK)
kongkast_190 – 17/04/2013  -  ft. BRIAN BRAINSTORM and RASCAL MC (Bassliebe, Phantom Dub, Hooverbass / Cologne, Germany)
kongkast_189 – 05/04/2013  -  ft. MIKAL (Metalheadz, SGN:LTD, Utopia Music, Horizons / UK)
kongkast_188 – 27/03/2013  -  ft.  ANADONIC (Perth / Australia / Hong Kong)
kongkast_187 – 17/03/2013  -  ft. BROTHERS IN ARMS (B.I.A) (aka MACOBOY & MERZO – Cologne/Wuppertal, Germany)
kongkast_186 – 06/03/2013  -  ft. LOBO (4daz-le / Macau, China)
kongkast_185 – 24/02/2013  -  ft. ALLEY CAT (KOKESHI, ESP, Feline/ UK)
kongkast_184 – 13/02/2013  -  ft.  KEEN (Label head of Demand Records / Zurich, Switzerland)
kongkast_183 – 03/02/2013  -  ft. PHOKUS (WOBWOB! , Police In Helicopter, Scrub A Dub, Saturate Records / Hamburg, Germany)
[2012]
kongkast_182 – 18/12/2012  -  ft.  Wash (Kongkretebass / Dresden, Germany / Hong Kong)
kongkast_181 – 26/11/2012  -  ft.  SEBA (Secret Operations, Metalheadz, Hospital / Sweden)
kongkast_180 – 01/10/2012  -  ft. GETZ (Renegade Hardware, C4C, Interactive Recordings / Russia)
kongkast_179 – 19/09/2012  -  ft. INGREDIENT RECORDS (Kinetic & Mark Recoil) / UK
kongkast_178 – 09/09/2012  -  ft. 01BREAKER / KASTOACHA (Brighton, UK)
kongkast_177 – 26/08/2012  -  ft. BASSLIEBE CREW (Cologne, Germany)
kongkast_176 – 15/08/2012  -  ft. PHON.O (50 Weapons, Monkeytown / Berlin, Germany) 
kongkast_175 – 18/07/2012  -  ft. ENA (7even Recordings, HE:Digital, F4TMusic / Tokyo, Japan)
kongkast_174 – 07/07/2012  - ft.  STRAY (Warm Communications, Critical, Invisible, Med School  / UK)
kongkast_173 – 30/06/2012  - ft. High Finesse / Dresden, Germany
kongkast_172 – 23/06/2012  -  ft. DNZ  / Fenders (Dresden, Germany)
kongkast  171 – 16/06/2012  -  ft. DANGER MOVEMENT (Dresden, Germany)
kongkast_170– 09/06/2012  - ft. SUB SICKNESS ( Dresden, Germany)
kongkast_169– 02/06/2012  - ft.  T.Low Rock (Buschfunk / Dresden, Germany)
kongkast_168 – 25/05/2012  -  ft. Wash (Kongkretebass / Hong Kong, Germany)
kongkast_167– 13/05/2012  –  ft.   AUDITE & MC Amon (Boundless Beatz / Leipzig, Germany)
kongkast_166– 02/05/2012  –  ft. ARKHAM (Red Label / Hong Kong)
kongkast_165– 16/04/2012  –  ft.   NOIZE CREATOR (Suburban Trash / DRESDEN, DE)
kongkast_164– 29/03/2012  –  ft.  ANDY SKOPES (Utopia Music, Uncertified Music, Jerona Fruits, Liquid V / UK)
kongkast_163– 20/03/2012  –  ft.  DJ Wash (Kongkretebass / DE, HK)
kongkast_162– 25/02/2012  –   ft.  HALOGENIX (Critical, Invisible, Horizons / UK)
kongkast_161 – 12/03/2012  –  ft.   DJ DRAGON (Homebass Communications, Dubway/ Bangkok, Thailand)
[2011]
kongkast_158 – 03/12/2011  -  ft.  INFRA (Dubmarine, Impulse, F4TMusic, Shadowdub / Berlin, Germany)
kongkast_157 – 14/11/2011  -  ft. Steven Lorenz (Intransik Beats, Rankadank Records / Shanghai, China)
kongkast_156 – 02/11/2011  -  ft. Balistics (Silk Recordings / NZ)
kongkast_155 – 23/10/2011  -  ft. Wash (Kongkretebass / Hong Kong)
kongkast_154 – 14/10/2011  -  ft. InsideInfo (Viper, Metro, Blu Mar Ten, Critical, Ganja-Tek / London, UK)
kongkast_153 – 02/10/2011  -  ft. Brad Pitch (MOOOSE Records / Dresden, Germany)
kongkast_152 – 17/9/2011  -  ft. Oshi & Tnem (The Drop / Beijing, China)
kongkast_151 – 30/8/2011  -  ft. BTK (Virus, Renegade Hardware, Dutty Audio / BRAZIL)
kongkast_150 – 21/8/2011  -  ft. HEAVY1 (Demand Record, Samurai Music, HE:Digital / Japan)
kongkast_149 – 14/8/2011  -  ft. HARIKIRI (Basskake / Beijing, China)
kongkast_148 – 31/7/2011  -  ft. ARPXP (Critical, IM:Ltd, Influenza Minus / ITALY)
kongkast_147 – 24/7/2011  -  ft. SEED (DETAIL Recordings, Ministry of Sound / UK)
kongkast_146 – 17/7/2011  -  ft. DJ CLART (Fokus, Strictly Digital, IM.LTD / UK)
kongkast_145 – 10/7/2011  -  ft. SLEEPER & DISTRICT (Chestplate / UK)
kongkast_144 – 03/7/2011   -  ft. DUB ELEMENTS (ALGORYTHM, BIG RIDDIM / SPAIN)
kongkast_143 – 19/6/2011  -  ft. CHERRY (SYNDICATE / SINGAPORE)
kongkast_142 – 09/6/2011  –  ft. DJ Wash (Kongkretebass / Hong Kong)
kongkast_141 – 31/5/2011  -  ft. ANILE (Temah , Renegade Hardware, DSM / UK)
kongkast_140 – 21/5/2011  -  ft. FICTION (Inbound Records / Adelaide , Australia)
kongkast_139 – 11/5/2011  -  ft. CALCULON (Rubik Records / USA)
kongkast_138 – 01/5/2011  -  ft. Misree (JungleTrain.net / Sydney, Australia)
kongkast_137 – 16/4/2011  -  ft. DJ Wash (Kongkretebass / Hong Kong)
kongkast_136 – 03/4/2011  -  ft. TMSV (Tube10, Box Clever / Netherlands)
kongkast_135 – 19/3/2011  -  ft. DAUNTLESS (No Frills / Sydney, Australia) exclusive Drum n' Bass mix
kongkast_134 – 06/3/2011 -  ft. PATCH (Adelaide, Australia) exclusive Drum n' Bass mix
kongkast_133 – 25/2/2011  -  ft. Red-I (Manila) exclusive Dubstep mix
kongkast_132 – 14/2/2011  -  ft. YAUMAN (Spain) exclusive Dubstep mix
kongkast_131 – 3/2/2011  -  ft. Conrank (Suicide Dub, Rankadank Records / UK) exclusive Drumstep mix
[2010]
kongkast_130 – 18/12/2010 -  ft. Drunk Monk feat. ChaCha (Sub-Culture, Shanghai)
kongkast_129 – 05/12/2010 -  ft. Utopia Music / Mako (Utopia Music / UK)
kongkast_128 – 15/11/2010 -  ft. Survival (Audio Tactics, Creative Source, Exit Records, DNAudio, Quarantine, Play Music, Shogun Audio / UK)
kongkast_127 – 30/10/2010  -  ft. Zero One Breaker (Echelon Frequency, Subside, Future Dub  / UK)
kongkast_126 – 16/10/2010  -  ft. Mark7 (5158 Records / Aus) 
kongkast_125 – 01/10/2010 – ft. Vortex (Qilin Music / Singapore)
kongkast_124 – 13/09/2010 – ft. Kode9 (Hyperdub / UK) 
kongkast_123 – 05/09/2010  -  ft. Pete Rann (PeteRann Music, Strictly-Digital,GLR, LGR, Fokuz, Vibez / UK) exclusive Drum & Bass mix
kongkast_122– 18/08/2010 -Â ft.Doshy (Robox Neotech /Germany)exclusive Dubstep mix
kongkast_121 – o6/08/2010 - ft.DJ Fu (Freerange, Metropolis /UK)exclusive Drum n' Bass mix
kongkast_120 – 27/07/2010 -Â ft. Tunnidge (Deep Medi Musik, Boka, Origin Audio, ChestPlate / UK)exclusive Dubstep mix
kongkast_119 – 18/07/2010 - ft. Jerona Fruits (UK)exclusive Drum n' Bass mix
kongkast_118 – 04/07/2010 -Â ft. Elemiz (Kongkretebass/ HK)exclusive UK Funky/ Dubstep mix
kongkast_117 – 24/06/2010 -Â ft. Forsaken (Soul Motive, Punch Drunk/ UK)exclusive Dubstep mix
kongkast_116 – 23/05/2010 - ft. Concussion Crew (Finland)exclusive Drum n' Bass + Dubstep mix
kongkast_115 – 12/05/2010 - ft. J-Path (Junglist/ Seoul, Korea)exclusive Drum n' Bass mix
kongkast_114 – 21/04/2010 - ft.Zul (Subvert/ Singapore)exclusive Drum n' Bass mix
kongkast_113 – 08/04/2010 - ft.Villem (Good Looking, Utopia Music, Uncertified Music, Creative Wax / UK)exclusive Drum n' Bass mix
kongkast_112 – 23/03/2010 -Â ft.The Abyss (Aquatic Labs, Betamorph/ AUS)exclusive Dubstep mix
kongkast_111 – 07/03/2010 -Â ft.DJ Wash (Kongkretebass /Hong Kong)exclusive Dubstep mix
kongkast_110 – 22/02/2010 - ft.BOJ LUCKI (MIR CREW/ SWEDEN)exclusive Dubstep+Drum n' Bass mix
kongkast_109 – 10/02/2010 - ft.JADE (BSE, 1210, Moving Shadow, Project 51, Citrus/ HU)exclusive Drum n' Bass mix
kongkast_108 – 01/02/2010 - ft. Model T (Brisbane/ Austalia) exclusive Drum n' Bass mix
kongkast_107 – 13/1/2010 - ft.Madcap (Renegade Recordings, Uncertified Music, Fokuz Recordings, Utopia Music, Good Looking / UK)exclusive Drum n' Bass mix
[2009]
kongkast_106– 31/12/2009Â  -Â ft. DJ Madd (Boka Records, Boombap!, 36 Hertz/ UK & Hungary)exclusive Dubstep mix
kongkast_105– 17/12/2009 - ft. IllSkillz  (aka DKAY & Rawfull) (ill.skillz_recordings, Brigand/ Austria)exclusive Drum n' Bass mix
kongkast_104– 02/12/2009 - ft.Body & Soul (Virus, BBK, Viper, Nasca/ Austria)exclusive Drum n' Bass mix
kongkast_103– 18/11/2009 - ft.Camo & Krooked (Viper, Renegade Hardware, Mainframe, Nasca/ Austria)exclusive Drum n' Bass mix
kongkast_102– 06/11/2009 - ft.Mako & Utopia Music (UK)exclusive Drum n' Bass label showcase mix
kongkast_101– 21/10/2009 - ft.Blu Mar Ten (Hospital, Renegade Hardware, Shogun Audio, 31 Records / UK)exclusive Drum n' Bass mix
kongkast_100– 07/10/2009 –ft.DJ Wash (Kongkretebass/ HK)exclusive Drum n' Bass / Dubstep mix
kongkast_99– 16/09/2009 –ft.Proxima (Shogun, Frequency, Crunch/ NL)exclusive Drum n' Bass mix
kongkast_98– 07/09/2009 – ft.DJ Dragon (Dubway, Homebass Communications/ Bangkok, Thailand)exclusive Dubstep mix
kongkast_97– 26/08/2009 – ft.Kid Fresh (IFT Champ, Lordz of Fitness, Pimpin' Aint Easy /HK) exclusiveMash Up mix
kongkast_96– 16/08/2009 -Â ft.Darren Dubwise (Singapore) exclusive Dubstep mix
kongkast_95– 05/08/2009 – ft.DJs Farj & Paul Fraser – AQUATIC LAB (Sydney, Aus) exclusive Dubstep mix
kongkast_94 – 27/07/2009 – ft.DJ Blackie (The Syndicate, Beijing) exclusive mix
kongkast_93 – 15/07/2009 – ft.Mael (The Syndicate, Beijing/ Rome) exclusive Dubstep mix
kongkast_92 – 04/07/2009– ft.DJ Wash (Kongkretebass, HK) for Kongkretebass
kongkast_91 – 24/06/2009 – ft. HEAVY crew 01: Mixed by N1D (Hong Kong & China Dubstep producer's mixtape)
kongkast_90 – 14/06/2009 -Â ft.TRUTH (Deep Medi Musik, Disfigured Dubz, Aquatic Lab/ NZ )exclusiveDubstep mix
kongkast_89 – 03/06/2009 -Â ft.DJ Wash (Kongkretebass, HK) exclusive mix
kongkast_88 – 24/05/2009 -Â ft.Aaron Jay (Swerve/Influence Records, UK) exclusive mix
kongkast_87 – 13/05/2009 –ft.KIAT (Metalheadz, Hospital, 31 Records, Soul:r, Function, Rufige/ Singapore)exclusive dnb mix
kongkast_86 – 03/05/2009 – ft. S.P.Y (Soul:R, CIA, Innerground, Metalheadz) & MC Riya (CIA, Soul:R, Commercial Suicide)exclusive dnb mix
kongkast_85 – 22/04/2009 –ft.Anowl (Loops Collective, Resistive / Malaysia)exclusive mix
kongkast_84 – 12/04/2009 -Â ft.Matt-U (Redvolume, Subway, Wheel and Deal, Commercial Suicide, BSE, Timeless / Hungary)exclusive Dubstep mix
kongkast_83 – 01/04/2009 -Â ft.DC Breaks (Ram, Frequency, Viper, DC Breaks, Restless Natives/ UK)exclusive mix
kongkast_82 – 22/03/2009 -Â ft.BLAISE (Uprooted Sunshine Shanghai/ Geneva, Switzerland)exclusiveDubstep mix
kongkast_81 – 11/03/2009– ft. NYMFO (Ram, Shogun LTD, Critical / NL)exclusive mix
kongkast_80 – 01/03/2009 -Â ft. CYRUS (Random Trio Productions, Tectonic/ UK)exclusive Dubstep mix
kongkast_79 – 22/02/2009 – ft. DJ Zuju (Macau)exclusive Dubstep mix
kongkast_78 – 15/02/2009 – DJ Wash in the mix for Kongkretebass
kongkast_77 – 08/02/2009– ft. Alley Cat (ESP Agency, Feline, Skunkrock, Reinforced/ UK)exclusive mix
kongkast_76 – 21/01/2009 – DJ Wash in the mix for Kongkretebass
kongkast_75 – 07/01/2009 – ft. DJ DisasZt (Mainframe Recordings, AudioPorn/ Austria)exclusive mix
[2008]
kongkast_74– 16/12/2008 – DJ Wash in the mix for Kongkretebass/Expansion Podcast (USA)
kongkast_73 – 03/12/2008 – ft. Champagne (Vibez Rec, Nu Urban Music, Pivotal Entertainment, Looking Good Records, Blindside Recordings and Midnight Sun Recordings)
kongkast_72 – 23/11/2008 – ft. Martsman (Med School, Offshore Recordings, Warm Communications/ Germany) – exclusive podcast show
kongkast_71 – 12/11/2008 – ft. Illeffect (Expansion Broadcast, Washington DC/USA) – exclusive studio mix
kongkast_70 – 02/11/2008 – ft. Intelligent Manners (Influenza Media, Liquid Brilliants, All Street, Golden Orb, Respect/ Russia) – exclusive studio mix
kongkast_69 – 18/10/2008 – DJ Wash in the mix for Kongkretebass
kongkast_68 – 04/10/2008 – ft. N1D (Macau, China) – Dubstep special
kongkast_67 – 15/09/2008 – DJ Wash in the mix for Kongkretebass
kongkast_66 – 04/09/2008 – ft. DISPLACED (Ruse Records, TWU (Events/Agency)/ New Zealand) – exclusive Studio mix
kongkast_65 – 20/08/2008 – ft. DOSE (Revolution, Commercial Suicide/ New Zealand) – exclusive studio mix
kongkast_64 – 07/08/2008 – DJ Wash in the mix for Kongkretebass
kongkast_63 – 22/07/2008 – ft. Rido (Czech Republic) – exclusive guest mix
kongkast_62 – 13/07/2008 – ft. Twinhed (Singapore) – exclusive guest mix
kongkast_61 – 01/07/2008 – DJ Wash in the mix for Kongkretebass
kongkast_60 – 19/06/2008 – DJ Wash in the mix for Kongkretebass
kongkast_59 – 11/06/2008 – DJ Wash in the mix for Kongkretebass
kongkast_58 – 31/05/2008 – DJ Wash in the mix for Kongkretebass
kongkast_57 – 13/05/2008 – RADAR#3 Preview – ft. DJ Shawn Livewire – exclusive mix
kongkast_56 – 01/05/2008 – DJ Wash in the mix for Kongkretebass
kongkast_55 – 14/04/2008 – ft. SpectraSoul (Shogun Audio, Critical Music, UK) – exclusive studio mix for Kongkretebass
kongkast_54 – 05/04/2008 – DJ Wash in the mix for Kongkretebass
kongkast_53 – 13/03/2008 – DJ Wash back in the mix for Kongkretebass
kongkast_52 – 01/03/2008 – ft. DJ ZeroDubz (Sydney, Australia) – Exclusive Dubstep mix for Kongkretebass
kongkast_51 – 18/02/2008 – Live recordings from 'Kongkretebass Presents: Big Bud (SoundTrax, UK)'
kongkast_50 – 27/01/2008 – ft. DJ Steppa – Propraganda Recordings, 3rd Angle, Blue Print and Radius Recorings (Best Breakthrough DJ @ National D&B Awards 2007, UK) – exclusive mix
kongkast_49 – 15/01/2008 – ft. DJ p_O (Foreign Dub', Syd, Aus) – exclusive mix
kongkast_48 – 10/01/2008 – ft. Bass'Flo (UK) – exclusive Studio Production mix
[2007]
kongkast_47 – 30/12/2007 – DJ Wash in the mix for Kongkretebass
kongkast_46 – 17/12/2007– DJ Wash in the mix for Kongkretebass
kongkast_45 – 06/12/2007 – DJ Wash in the mix for Kongkretebass
kongkast_44 – 26/11/2007– DJ Wash in the mix for Kongkretebass
kongkast_43– 14/11/2007 -Â DJ Wash in the mix for Kongkretebass
kongkast_42– 04/11/2007-Â DJ Wash in the mix for Kongkretebass
kongkast_41– 24/10/2007-Â DJ Wash in the mix for Kongkretebass
kongkast_40– 06/10/2007– DJ Wash in the mix for Kongkretebass
kongkast_39– 28/09/2007 – Kongkretebass studio guest mix – with DJ GUY (Sydney, AUS)
kongkast_38– 10/09/2007-Â DJ Wash in the mix for Kongkretebass
kongkast_37– 22/08/2007 – ft. DJ Mako (Bristol, UK) – recorded live @ Spectrum, London
kongkast_36– 10/08/2007-Â DJ Wash in the mix for Kongkretebass
kongkast_35– 26/07/2007-Â DJ Wash in the mix for Kongkretebass
kongkast_34– 18/07/2007 – Liquid funk special
kongkast_33– 12/07/2007 – Airbourne presents: Old Skool Jungle 3 – live recordings – DJ Munk and Mc Ro
kongkast_32– 05/07/2007-Â DJ Wash in the mix for Kongkretebass
kongkast_31– 04/06/2007-Â DJ Wash in the mix for Kongkretebass
kongkast_30– 09/05/2007 – DJ A.L.F (Syd, AUS) Retrospective Mix – RADAR02 preview
kongkast_29– 30/04/2007 – DJ Patto (Syd, AUS) DNBBQ Hibernation Mix – RADAR02 preview
kongkast_28– 11/04/2007-Â DJ Wash in the mix for Kongkretebass
kongkast_27– 28/03/2007 – Cube Factor (NZ) unreleased production mix by J Kon for Kongkretebass
kongkast_26– 08/03/2007 – International Womens Day special mix by DJ Pichy (Bangkok)
kongkast_25– 26/02/2007 – Live recordings from RADAR01 by Kastoacha (Heavy)
kongkast_24– 07/02/2007-Â DJ Wash in the mix for Kongkretebass
kongkast_23– 30/01/2007-Â DJ Wash in the mix for Kongkretebass
kongkast_22– 23/01/2007-Â DJ Wash in the mix for Kongkretebass
kongkast_21– 16/01/2007 -Â DJ Wash in the mix for Kongkretebass
kongkast_20– 04/01/2007 – Q-Bik (NZ) December mix for Bios Recordings and Kongkretebass
[2006]
kongkast_19 – 18/12/2006 – Heavy's very own BloodDunza & Kas in the mix @ Jungle Bells 2006
kongkast_18 – 13/12/2006 – Le Libertin & Teem in the mix @ Jungle Bells 2006
kongkast_17 – 05/12/2006 – The Arkham in the mix @ Jungle Bells 2006
kongkast_16 – 28/11/2006- DJ Wash in the mix for Kongkretebass
kongkast_15 – 22/11/2006 – Old School special! Mr.Prop (SFK) – (FR)
kongkast_14 – 13/11/2006- DJ Wash in the mix for Kongkretebass
kongkast_13 – 06/11/2006- DJ Wash in the mix for Kongkretebass
kongkast_12 – 26/10/2006- DJ Wash in the mix for Kongkretebass
kongkast_11 – 18/10/2006- DJ Wash in the mix for Kongkretebass
kongkast_10 – 09/10/2006-Â DJ Wash in the mix for Kongkretebass
kongkast_09 – 03/10/2006 – Live recordings from HEAVY! part 3 – DJ Mako (UK)
kongkast_08 – 25/09/2006 – Live PA recordings from HEAVY! part 2 – EPZ (HK, FR)
kongkast_07 – 20/09/2006 – Live recordings from HEAVY! part 1 – DJ Check1 (UK)
kongkast_06 – 13/09/2006 – Special guest studio mix/interview with DJ Mako (Bristol, UK)
kongkast_05 – 05/09/2006- DJ Wash in the mix for Kongkretebass
kongkast_04 – 20/08/2006- DJ Wash in the mix for Kongkretebass
kongkast_03 – 09/08/2006- DJ Wash in the mix for Kongkretebass
kongkast_02 – 28/07/2006- DJ Wash in the mix for Kongkretebass
kongkast_01 – kongkast_01 (Launch Trial – DJ Wash – one:Fix series Vol:2)