SONIC STEP SISTERS – We're back! @ Otto Lounge, Lan Kwai Fong, HK – FRIDAY, 30. April 2010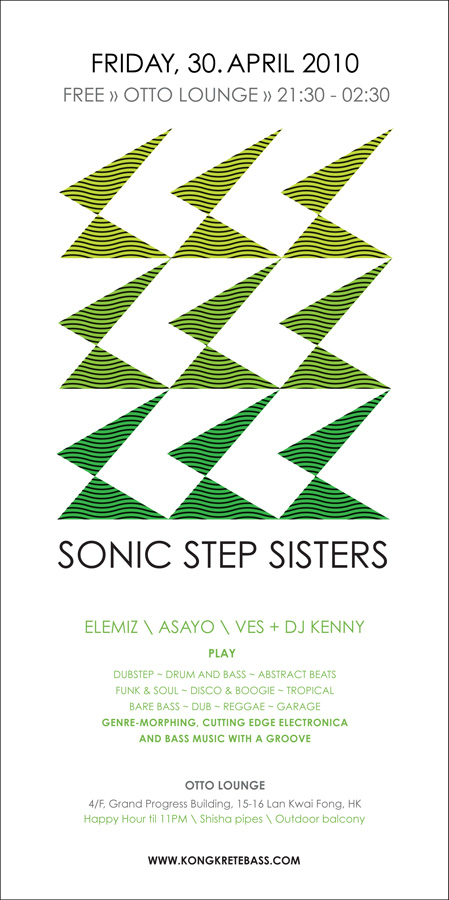 Boom-shaka-pow… by popular demand SONIC STEP SISTERS is back with a Spring edition!

As you will remember, we launched this project in March. We had such a great time and requests for more, that we are proud to bring you a new edition of the SONIC STEP SISTERS sessions this spring.
Three new dates, with the first on Friday, 30th April. ELEMIZ, VES, ASAYO will be back at work behind the decks, happily cross-pollinating their favourite sounds for your dancing pleasure, alongside our next guest – DJ KENNY.

Spread the word – Get involved – This one's for you! ❤

Sonicly yours,
Electronic Mistress
✿ View FB event: http://www.facebook.com/event.php?eid=112206935480401
———————————————
DATES & DETAILS
———————————————

SONIC STEP SISTERS – pt.4 – The Spring edition!
Friday, 30th April 2010 @ Otto Lounge
with DJs VES, ASAYO, ELEMIZ
+ guest DJ KENNY (Terntable Jediz/ AUS-HK)

9.30PM – 2.30AM (early start!)
FREE ENTRY
Happy Hour til 11PM \ Shisha (Hokkah) Pipes \ Outdoor balcony
———————————————
VENUE ADDRESS
———————————————

OTTO Lounge: 4th Floor, Grand Progress Building, 15-16 Lan Kwai Fong, Central, HK (Tel: 6102 6660)
View Map: here

OTTO Lounge, is privately tucked away on a 4th Floor above Lan Kwai Fong in Central, and with it's open balcony still gives you a feeling of being right in the middle of everything. OTTO Lounge will offer a selection of Middle Eastern/ Indian/ Nepale snack foods as well as a special 'Happy Hour' deal for drinks (until 11pm!) and can also provide Shisha pipes for the exotic smokers among you.
———————————————
Music styles:
A mixed bag of sound with vibes ranging from good old funk, dub and reggae to liquid drum and bass, funky dubstep, tropical, future garage, kuduro, abstract hip hop, and beyond… In short: all sort of old and new genre mutating bass music (that nobody knows the names of yet).
———————————————
OUR GUESTS – 30th APRIL
———————————————
DJ KENNY – member of Terntable Jediz (Australia & Hong Kong), is best known for fusing funk, soul, disco & boogie with a precision and skill that will keep you swaying in a lush cocoon of cosmic grooves. http://www.myspace.com/jediz852
(✘ 30th April – Funk & Soul, Disco & Boogie)
Artworks by XYZ – http://www.dimmsumm.com
———————————————
'SONIC STEP SISTERS' residents
———————————————
Electronic Mistress and the DJs behind 'SONIC STEP SISTERS' already are familiar faces in HK's nightlife, with years of involvement in local scenes.
Those who've been keeping an ear close to the ground in Hong Kong will have encountered these ladies many times. Either hosting one of their own club nights, rocking out behind the turntables or chilling out at friends' gigs, bullying people to make them dance.
Now they fuse their magic powers as allies for the 'SONIC STEP SISTERS' project, a casual evening of social music listening and cosmic groove! They count on your uncompromised, passionate support.
To read more about ELEMIZ, VES and ASAYO please see our previous post about SONIC STEP SISTERS.
❥❥❥
$✿n!c $tєp $!śT3яz
❥❥❥
Inquiries: info[a t]kongkretebass.com
Posted: April 19th, 2010 under Drum & Bass, Dubstep, Gigs in HK, News.
Comments: 1
Comments