Red Bull Music Academy 'On The Floor' – Artist session Hong Kong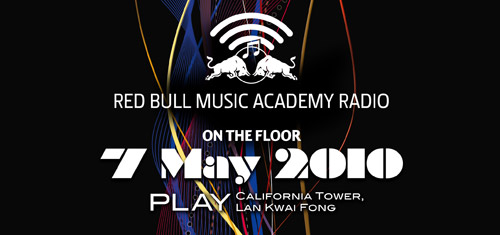 Update: The info session was recorded by local independent music station Radio Dada. Available for streaming here.

The talk is between DJ Siesta (Dnb DJ/ promoter from Shanghai), Gold Mountain (Hip Hop Mc), ST (electronica producer), Simon Griff (electronica musician) and Dj Yeodie (mixed styles DJ). They mainly exchange their opinions about the challenges of promoting and delivering non-mainstream music to a small audience in Hong Kong – a tough ground for developing music culture. We are looking forward to the next session of 'On The Floor' already, with (hopefully) another round of diverse music makers and a bit more talk on the positive sides of music cultivation in this city.

—-
Attention Hong Kong electronic music makers – a free mini Red Bull Music Academy Session will take place in Hong Kong this evening.
The 'RBMA – On The Floor' is a global initiative, to encourage music exchange between established artists and newcomers who want to learn from them. Attendees can ask the panel of guest artists about their advice and experiences in music life, and share their ideas.
"This is a spin-off of the RBMA," says Eric Thain, Red Bull Asia's Communications Director. "There will be 3 [events] held in Hong Kong / Macau this year, as part of a regional campaign (others in Taiwan and Singapore). The selection of artists is based on their genres as well as history of working with the RBMA."
If you plan to attend the session on May 7th, send an email with your name to:  eric.thain@hk.redbull.com
Red Bull Music Academy – 'On The Floor'
– artist info session –
7 May, 2010 (Friday)
Address: Play (Basement, California Tower, 32 D'Aguilar Street, Lan Kwai Fong, Central)
Time: Info session 6-7.30pm // Dj Party afterwards from 11pm-2am
Guests: DJ Siesta (Shanghai), DJ Frankie Lam, Gold Mountain & DJ Yeodie, Simon Griff (of Violent Jokes). Moderated by ST Choi Sai Ho.
Check this feature article about the RBMA OTF by Ollie Clasper in Time Out Magazine Hong Kong:
http://www.timeout.com.hk/clubs/features/33690/it-starts-here.html
Replay the RBMA special radio show from 1st May, on Hong Kong RADIO DADA (with Gold Mountain/Yeodie talking and Dj Prepare laying down cool background music) :
http://www.radiodada.hk/#archive/urban20100501
Posted: May 7th, 2010 under Gigs in HK, News, Other.
Comments: none