Knowledge Magazine Issue 102 is out – and KONGKAST is in it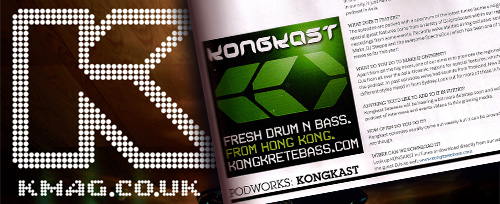 More than 2 years and 66 episodes after Kongkretebass has aired the first episode from Hong Kong, KONGKAST proudly soldiers on and continues to bring springfresh sounds from the world of drum & bass to thousands of listeners every week!
With a great passion, KONGKAST creator & host DJ Wash scrambles through records, dubs and promos every week and hooks up with the scene's artists to compile a new podcast. For spreading the music we love (it's drum & bass, baby!) and its good variety in styles to the far corners of the World.
But is it always just about drum & bass? Well, tune in and find out!
KONGKAST (made in HK) is podcast of the issue this September in KMAG (made in the UK).
And we like it!
(Click image to read full article)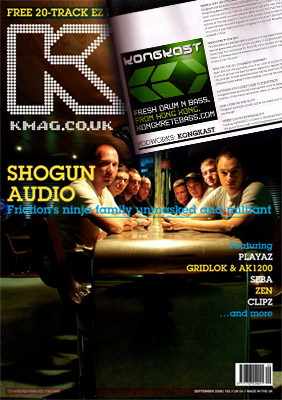 In HK (try to) pick up a copy of KMAG at Dymocks. Or subscribe online: http://www.kmag.co.uk
Posted: September 11th, 2008 under News.
Comments: none