KONGKRETEBASS SUPPORTS: HEAVY Dubstep Forward – Sat, 28th February 2009 @ Sammi's Kitchen, HK

Our friends, the HEAVY sound system, soldier on this month in the terrain of low frequency music that is Dubstep. Kongkretebass' femme fatale Electronic Mistress will once again be supporting the mayhem with her exquisite dubstep selections. Oh and watch out she'll be dropping a number of freshly produced chooooooonz from the Kongkretebass studio – 100% virgin material. Booya!
p.s. Dump your home stereos. You're missing out on half the sound. You really must come out to hear (and physically experience) the low frequencies!
Heavy presents: DUBSTEP FORWARD @ Sammi's Kitchen
A night of Dubstep and DNB
Saturday, 28th February 2009
Line-up:
Saiyan (Macau/ HK)
N1D (Macau)
Sannja (Macau)
Kastoacha (UK)
BloodDunza (HK)
Electronic Mistress (Kongkretebass/ HK)

Venue:
Sammi's Kitchen (G/F, 137-139 Connaught Road Central, Sheung Wan, Hong Kong)
Doors open: 11PM – late
Entry: $100 (including a bottle of beer)
More information:
www.myspace.com/heavyhongkong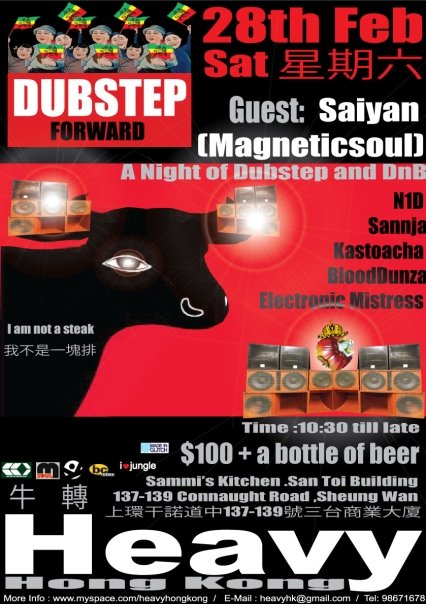 Posted: February 12th, 2009 under Gigs in HK, News.
Comments: none