+++++
ABOUT GOTH-TRAD (Deep Medi, Skud Beat, Back To Chill/ Japan)
"Japanese badman from day dot, Goth-Trad is one of the most interesting artists and producers we've seen or heard in a long time. He has a bright future ahead of him." ATM Magazine (UK)
Widely regarded as Japan's premier dubstep talent, production veteran Takeaki Maruyama (Goth-Trad) has spent the last ten years experimenting with techno, jungle and drum & bass, and is currently running the monthly dubstep and grime night, Back To Chill in Tokyo. With his ever-growing international reputation, thanks to releases on Deep Medi Musik, Scud Records and Soul Jazz, Goth-Trad is rapidly becoming recognised internationally, embarking on frequent European and UK touring. It will be his Hong Kong debut for Kongkretebass Kongkast Big 100 this September.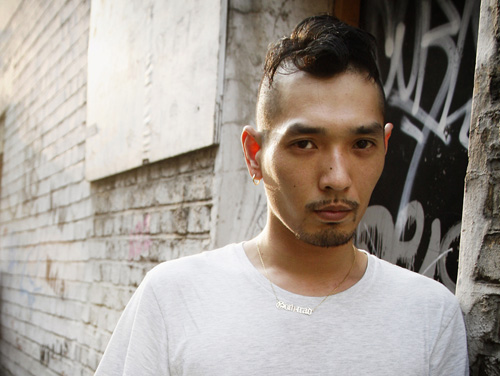 A unique producer with a unique style, Goth-Trad (of Rebel Familia) has emerged from the Japanese electronic scene in the last few years as one of the most arresting artists from his generation. Freely playing samplers, keyboards and even self-made instruments, 'The Sound Originator' Goth-Trad creates remarkable dance music with an abstract approach.
Goth-Trad started making music in 1998, experimenting on his own at first before eventually forming the Rebel Familia unit in 2001 with Takeshi 'Heavy' Akimoto (ex-member of Dry & Heavy, a legendary Japanese dub and reggae act).
In the years that followed he continued to develop his own sound alongside that of Rebel Familia, giving himself diverse avenues in which to experiment with different sounds, styles and structures.
From abstract electronica to noise, from dub and reggae to jungle and rave music, grime to dubstep, Goth-Trad has always experimented and in the process developed his own unique style: blending influences and delivering music that is constantly evolving.
From 2001 to 2004 Goth-Trad burst out of the Tokyo underground and put his name on the map with his first European tour, the release of his first solo album, 'Goth-Trad I', showcasing his amalgamation of sounds and influences developed over the years, and by opening for The Mars Volta during their 2004 Japanese tour.
http://www.myspace.com/gothtrad
http://www.discogs.com/artist/goth-trad
——-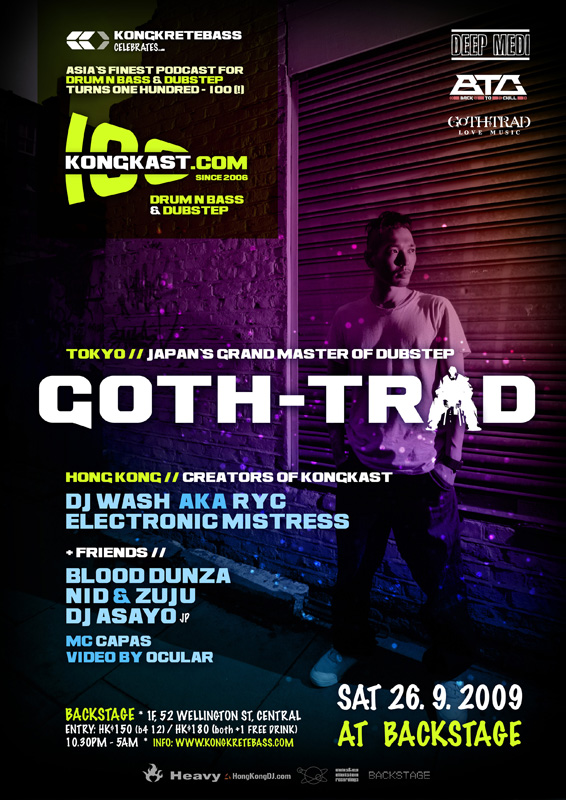 ————————————
K I A T
[Metalheadz, Hospital, 31 Records, Soul:r, Function, Rufige/ Singapore]
http://www.myspace.com/singaporekiat
As one of South East Asia's pioneers of the drum & bass sound, KIAT (Jon Nah) championed
the darker side of electronica with quality breaks, rolling bass-lines and leftfield influences over many
years. With more than 17 years of DJ-ing experience behind him, KIAT extended successfully into
music production. Often intricately programmed with deep grooves hidden behind warm detroit
synths and strung together by dubby bass-lines and crafted hip-hop breaks, it is no wonder that after
opening for Goldie at Homeclub, Singapore, his tunes caught Goldie's attention and were immediately
courted for release on the Metalheadz's Rufige.
KIAT's tunes are now sought after by the top shelf DJs in the scene – Goldie, Doc Scott, Marky,
Marcus Intalex, A-sides, S.P.Y., Storm , Amit , Digital , Alleycat , Bailey, Vapour, Gremlinz, London
Electricty and Fabio. The Singaporean has also been featured as "Leader of the Nu-Skool" in
recognised international drum & bass magazines KNOWLEDGE and ATM, and his tracks went on air
on BBC's 'Essential mix' on 1XTRA, BBC's online urban music radio station.
KIAT's recent collaboration with fresh producer S.P.Y. from Brazil titled "Close Encounters" became
a small success in the saturated electronica scene. Furthermore, this tune allowed the duo to expand
their audiences beyond the regular drum and bass enthusiasts. As a nice affirmation, Goldie voted it
as his favourite tune of the summer 2008!
On music production and DJ-ing, he's always seeking to create a soundscape to be remembered and
definitely never takes the same route twice. Finding inspiration from a new breed of producers such
as Gaslampkiller, Glitch Mob, Flying Lotus as well as some minimal techno for good measure, KIAT's
DJ sets are expected to be packed with leftfield beats as well as proper dancefloor bangers.
Labels: Kiat's productions are signed on some of the biggest labels in the biz – Function, Soul:R,
Hospital, Metalheadz/Rufige, Influenza LTD, Vampire, Technoir, Nerve
Discography:
Kiat – Liquid Fire (Homebass)
Kiat – Paradise Lost (Vampire)
Kiat + Morphy – Island Rock (Nerve)
Kiat + Morphy – Strangers (Function)
Ash + Kiat – Closer (Tech:Noir)
Spy + Kiat – Close Encounters (Soul:r)
Forthcoming releases:
Kiat – Killing Colonists (Qilin) Kiat – Madagascar (Vampire)
Kiat – X (Blindside)
Kiat – Diablo (Rufige) Kiat – Less Sugar (Influenza Ltd)
Kiat – Under The Influence (Influenza Ltd)
Kiat – Slave Codes (Function)
Kiat + Sinistarr – Black Diamonds (Hospital) Badfellaz – Badfellaz (31 Records)
Ash + Kiat – Last Lullaby (Metalheadz)
Ash + Kiat – Where Am I (Blindside)
++++++++++++++++++++++++
ABOUT DUBWISE:

DUBWISE
[Singapore]
http://www.myspace.com/dubwisesg
Dubwise is Darren "Kable" Dubwise & Guna "Castro" Dubwise.
Based in Singapore, don't let their name fool you, the duo with more then a combined 18
years of DJing experience under their belt, have more than reggae/dub up their musical
sleeves.
Tastemakers in their own right and heavily influenced by the sounds of labels like Basic
Channel, Hyperdub, Warp and Planet Mu, they are responsible for the development and
promotion of the Dubstep & other bass heavy genres in Singapore, with trademark
rowdy club nights such as "Dubwise" and more recently "Mutant Dub".
These 2 troublemakers recently taken to the recording studios developing a new live show,
featuring talented fellow Singaporean, MC Masterpiece, with his bag of tricks, you can
definitely expect them to blow minds and speaker boxes with their productions.
You'll like it when the bass comes in!
On 16th May, KIAT and Darren "Kable" Dubwise will be representing the Singapore sound to Hong Kong's
bass-hungry music lovers.
Kongkretebass Presents: RADAR 4 ft. KIAT(Metalheadz, Hospital, Soul:r/ SGP) + DUBWISE (Singapore)
Saturday, 16. May 2009 @ BACKSTAGE Live, HK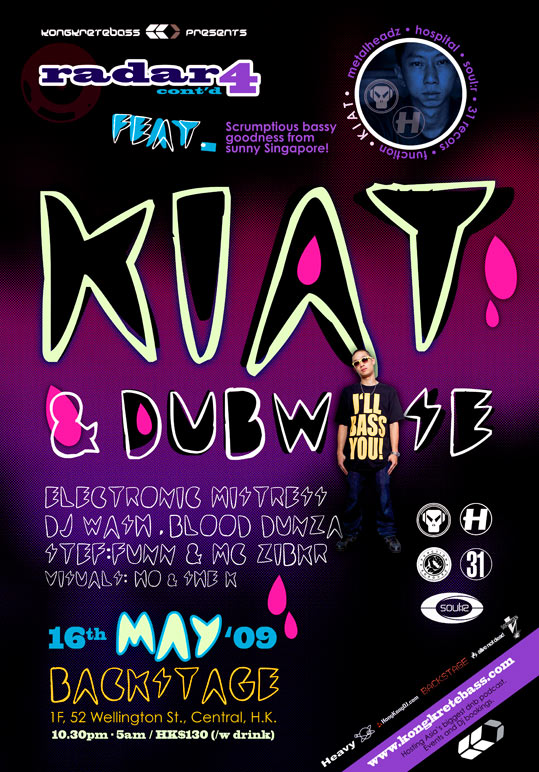 ——————————————–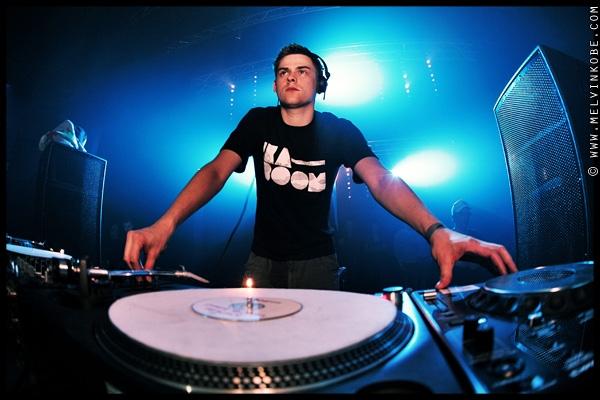 LYNX
(Soul:r, Creative Source, Digital Soundboy, Bingo/ UK)
Extended biography:
With a long list of high-profile patrons including Marcus Intalex (Soul:r), Fabio (Creative Source), Shy FX (Digital Soundboy) and Zinc (Bingo), it's no surprise that Lynx has risen quickly through the ranks to become one of the most in demand DJs in drum and bass. Bursting back on to the scene in 2006 with a fresh and infectious sound, it would be easy to overlook the many years of groundwork spent honing his skills with early releases on labels including Underfire, Audio Blueprint and Renegade Recordings. Lynx has since made music his profession, as well as his passion, and helps run a commercial studio, producing for a range of artists involved in other music genres. He's already left his mark in the drum and bass scene, however, and raised the bar for creative and innovative production whilst keeping the dancefloor in firm focus.
Portsmouth-born Steve Nobes, aka Lynx, had his first release at the tender age of 17, back in 1996 with Southampton-based Hardcore pioneers, Ramos, Supreme and Sunset Regime. A career in music beckoned and he set about racking up many years of commercial studio experience plus a Masters degree in Audio Technology, learning his trade and developing the skills to take his sound further. Starting with work experience at Chichester based studio 'Airtight', Lynx worked alongside the likes of Friction, Mampi Swift, Stakka, Skynet, and Skinny where he demonstrated a hard-working attitude plus a natural aptitude at the controls and earned himself the position of co-managing the studio.
From his musical beginnings producing hardcore, in 2002 Lynx moved into the new, techno-infused wave of drum and bass and racked up a string of releases with Brighton based labels Underfire Recordings and Audio Blueprint (Stakka & Skynet). Tracks such as 'Meltin Pot' and 'Special Agent' were championed by Andy C, Ed Rush & Optical, Shimon and Kemal. Keen to progress and diversify his sound, Lynx collaborated with popular French DJ Flow to produce 'Time-Out' (Renegade Recordings, 2002). The track appeared on the first 'Renegade Rollers' compilation and proved a firm favourite with Radio 1's Fabio and the legendary John Peel, giving Lynx confidence in his ability to capture the essence of a musical genre and produce drum and bass across the musical spectrum.
Drawing inspiration from other sounds across the club scene, Lynx has since forged a style that continues to evolve, combining influences from rock to reggae and electro to hiphop. He's already torn up the template with the massive 'Disco Dodo' (Creative Source) and went on to make 2007 his year with the standout successes, 'Global Enemies' and 'Carnivale' (Soul:r) alongside Kemo MC. From the deep and rolling vibes of 'Shaku' (Digital Soundboy) to the bold and brassy funk of 'Randy' (Soul:r), Lynx has already crossed a range of styles and demonstrated there are many more strings to his bow. A keen collaborator, Lynx has produced alongside Alix Perez, Maple, Malibu Rhodes, Aaron Jay and more and has a talent for drawing the best from himself plus the artist he's working with.
In the words of Marcus Intalex, "attention to detail is his trademark" and Lynx makes this clear across his debut LP with Kemo MC, 'The Raw Truth' – forthcoming in February 2009. Together with Kemo MC, plus MC DRS and guest vocalists, Lynx has taken their album on tour following a sensational live show at Sardinia's Sun and Bass festival in 2008. Lynx has also joined the Soul:r roster, alongside legends such as Calibre, Marcus Intalex and ST Files, and is available for bookings on label nights too.
Combining his deep passion for funk, rock, soul, jazz and world music with the technical ability to realise his ideas, Lynx's music comes from the heart. Always one step ahead of the herd with a selection fresher than most, Lynx continues to set the pace.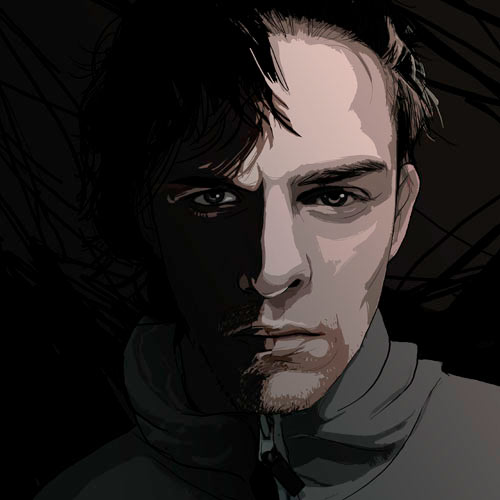 Make sure not to miss LYNX's Hong Kong debut performance!
Saturday, 10. January 2009 @ Backstage Live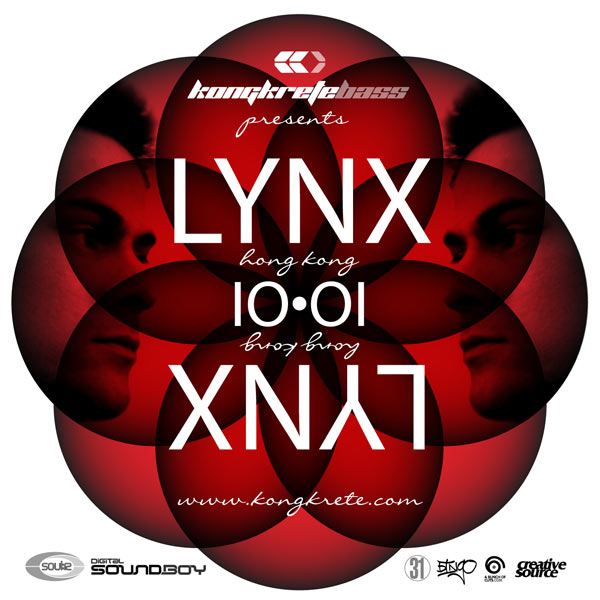 ++++++++++++++++++++++++
JUNGLE BELLS '08 artists:
++++++++++++++++++++++++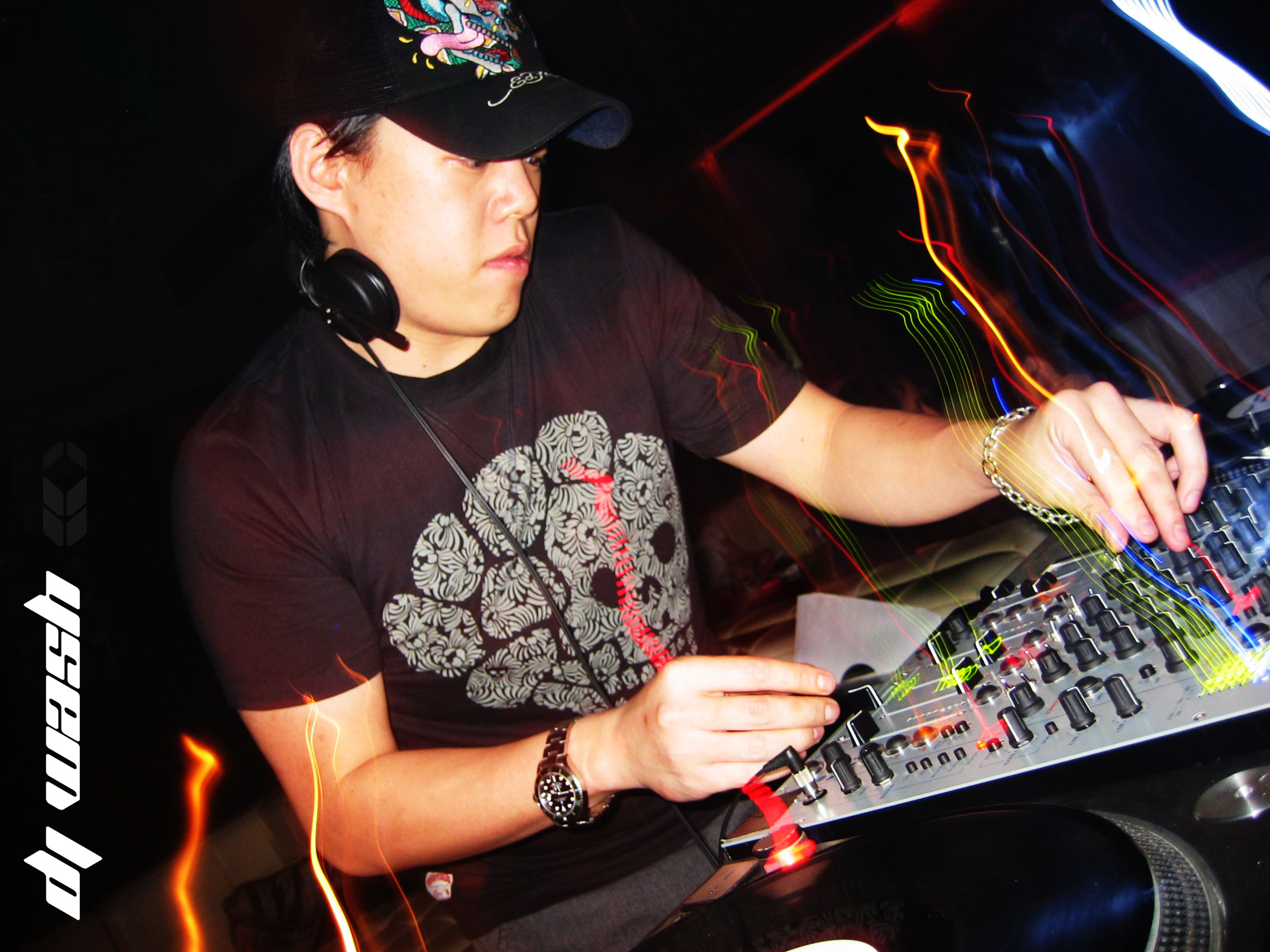 DJ WASH (kongkretebass)
http://www.myspace.com/djwash
DJ Wash is DJ/producer/promoter for Kongkretebass. He came from a scene of breaks and DNB in Sydney, Australia, before appearing in the re-kindling Hong Kong drum & bass scene in 2005. His fast moving, highly energetic sets sparkle with a wide spectrum of sounds. Be it rollers, jump-up, tech or liquid style – DJ Wash's range and diversity are a guaranteed crowd pleaser.
When not behind the decks, DJ Wash dedicates most his time to studio work. His first commercial release appeared in early 2008 under European label Indies Scope on the album "Brant Rock" by 100°C, a top Czech indie band who had invited DJ Wash to contribute to their album-remix project. Besides producing & promoting local events, DJ Wash also runs Asia's biggest drum & bass podcast, called Kongkast. Its regular episodes & guest mixes have been spreading the latest sounds of drum & bass to thousands of listeners around the globe every month, since 2006.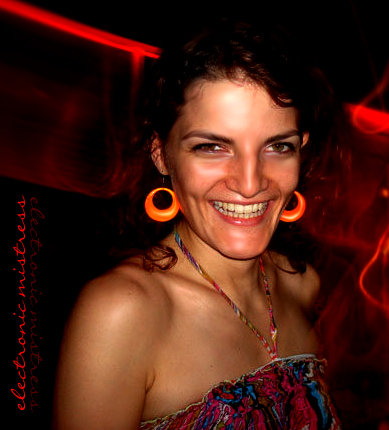 ELECTRONIC MISTRESS (kongkretebass)
http://www.myspace.com/electronicmistress
Electronic Mistress is DJ, promoter and co-founder of Kongkretebass. As the energetic driver behind JUNGLE BELLS, she is determined to put local drum & bass lovers' dance floor stamina to a test with another mash up night of truly wicked sounds beyond 2x the speed of a heartbeat!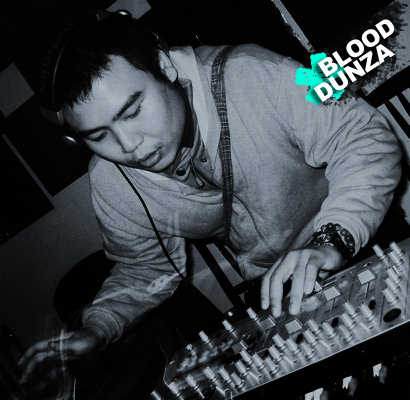 BLOOD DUNZA (heavy)
http://www.myspace.com/heavyhongkong
Blood Dunza is an original Hong Kong Junglist DJ and producer. He can be seen laying down his signature Ragga-Jungle sets at almost every single DNB gig around town as well as throughout China. Aside from being a resident DJ with the Magnetic Soul crew, Blood Dunza is pioneering exposure of various underground sounds in Hong Kong with his very own vision, and has been doing so under the HEAVY moniker since early 2006. HEAVY is a concept dedicated to the techier, heavier side of drum & bass, dub, reggae, as well as dubstep and offers a platform for newly emerging artists in and around Hong Kong. Big things going forward! Blood Dunza is touring China in November, but will be back just in time reppin the HEAVY sound for JUNGLE BELLS '08.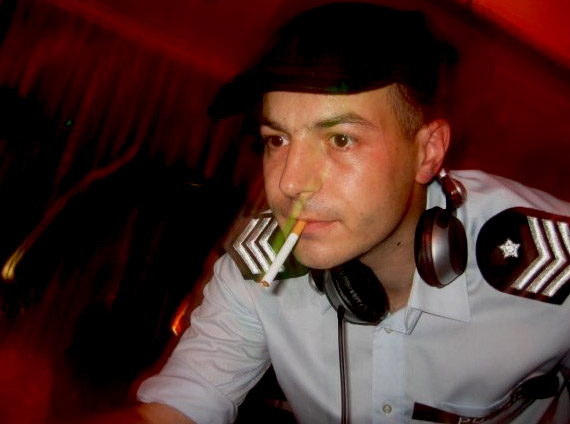 LE LIBERTIN (sulfurik)
http://www.myspace.com/artoffman
DJ Le Libertin (aka Art Off Man) started music in Paris 1996. From small private parties to outdoor raves across Europe, his experiences from both famous clubs and "underground" parties made him a DJ and producer with a very eclectic selection of electronic music, dedicated to the crowd! His passion for travel and mix of different cultures brought him to HK and China, soon playing for Live Acts and organising the Hong Kong Club Tour in 2006. Le Libertin definitely knows how to make people move on a dance floor! Apart from Drum & Bass, Le Libertin also plays Electro, Techno, BreakBeat, Tribal and Hard Tekno.
Releases: #1 vinyl releases 2004 C.C.R 001 – #2 vinyl releases 2005 SFK 001 www.discogs.com/label/Conscience+Collective+Production – Sonic Fiction Production Compilation of different artists for this German production house. www.sonic-fiction.net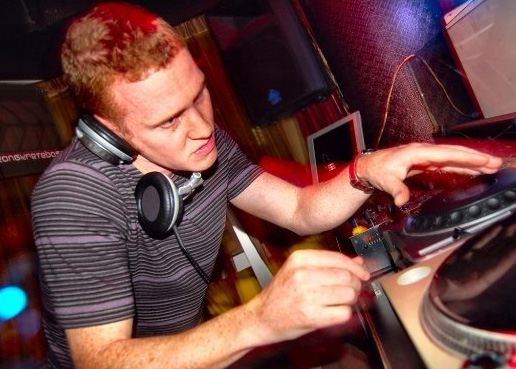 ARKHAM (red label, yumla)
http://www.myspace.com/jamesarkham
Arkham can be called by many names, but he's undoubtedly the "longest-standing Junglist in the city" (Hong Kong). He's best known from his former monthly Red Label night at popular musical establishment Yumla, where he loyally nurtured bass-heavy sounds along with budding DJ Johnathan. We are happy to welcome Arkham back to the JUNGLE BELLS turntables for the third year!
STEF:FUNN (heavy)
http://www.myspace.com/heavyhongkong
Stef:funn's strong musical background as a professional drummer for Hong Kong's most prominent Rock & Pop artists has taken him on travels around Asia, Europe and the US.
Influenced by rock, funk, jazz & reggae, Stef:fun extended his musical horizon by spinning drum & bass records. He has since supported numerous gigs for local crews Heavy, Eclectism and Kongkretebass, as well as Magnetic Soul DJs. At this years' Jungle Bells drum & bass shakedown he's once again going to rock it hard & heavy, mosh-pit style!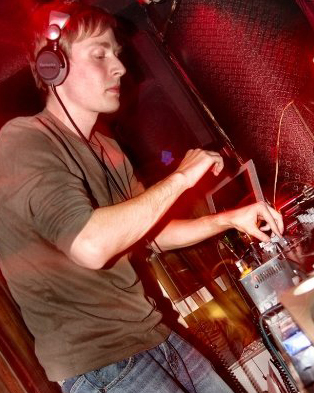 SYNERTIA (merck records)
Synertia has been spinning drum and bass in the US for over 6 years and loves DJing in Hong Kong. He plays a diverse mix of all types of dnb: liquid, dark, and dancefloor. In his past 2 years of living in Hong Kong he has had a great time playing out and looks forward to supporting JUNGLE BELLS 2008 for the second year.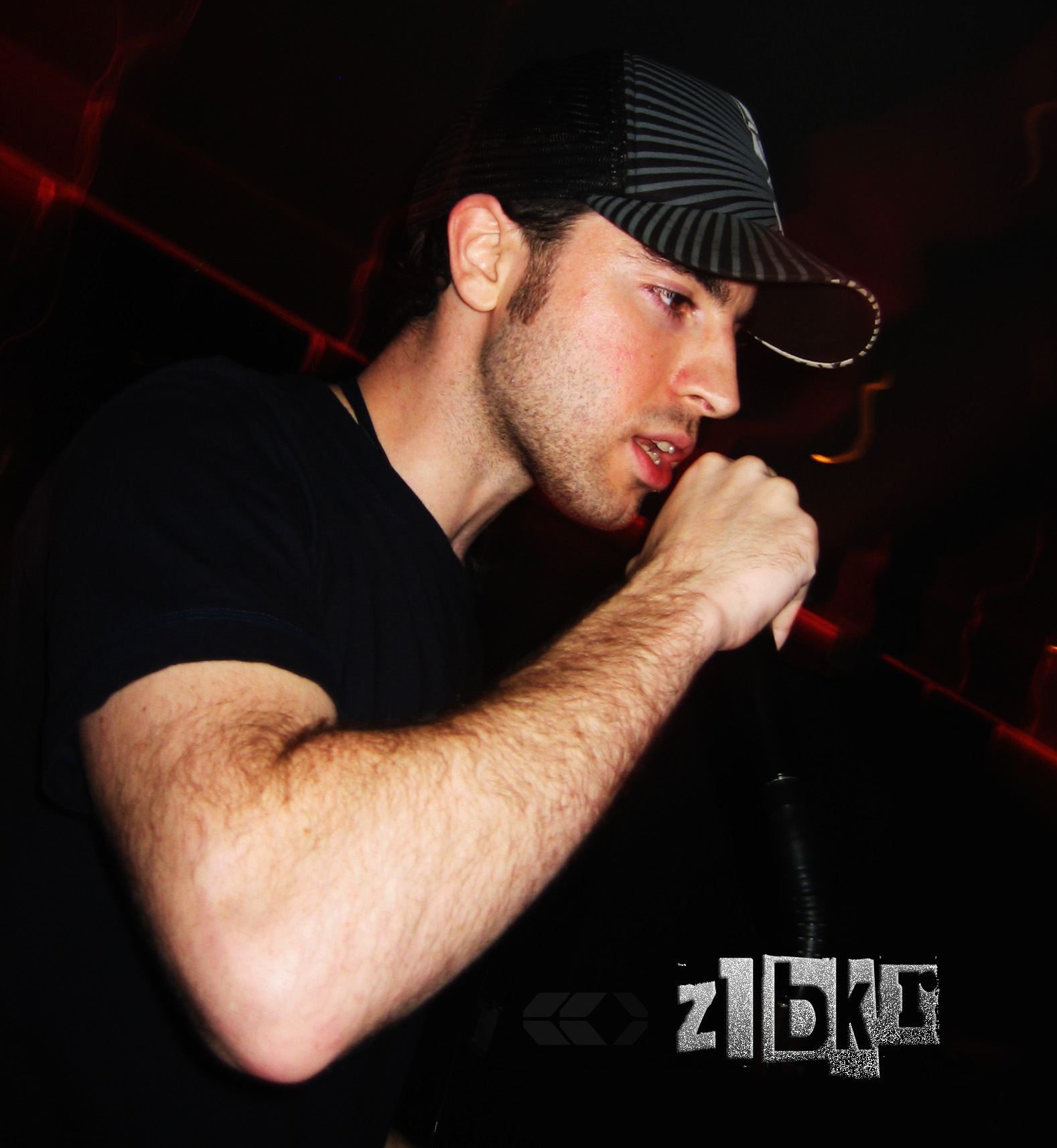 KASTOACHA/Mc z1BKR (eclectism, heavy)
http://www.myspace.com/kastoacha
DJ/Producer/MC/Vocalist and promoter in Hong Kong, Kastoacha is a staple in Hong Kong's underground scene. As a resident DJ at HEAVY he plays a neural tech punk mashup of dnb, dubstep, breaks and electro, with some random classics thrown in. Whilst regularly MCing live at dnb nights as z1bkr, he can be found spitting out all types of subliminal nu-speak rhetoric. Let's hear it loud!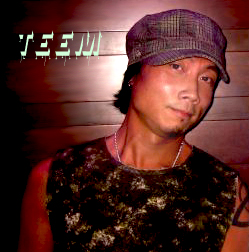 TEEM (magnetic soul)
http://www.magneticsoul.co.uk
In just over 2 years of spinning as a resident DJ for Magnetic Soul, Teem has supported numerous of their events in Hong Kong. He plays a crowd-friendly jump-up style but also likes the deep & techy side of dnb. Teem describes his biggest influences as being UK's heavy-weight artists such as DJ Friction and Zinc. His aim as a DJ in Hong Kong is to lure more people away from the commercial clubs and make them fall for the world of underground sounds which drum & bass is a substantial part of.
Kongkretebass proudly presents all of the above artists at JUNGLE BELLS 2008 in Hong Kong, 6th December 2008.
It's gonna be LOUD! Don't miss it!
++++++++++++++++++++++++++++++++++++++++++++++++++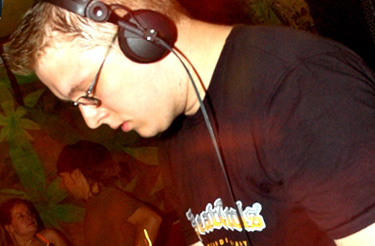 CHRIS.SU (Commercial Suicide, Subtitles, Timeless / Tactile) Budapest, Hungary
http://www.myspace.com/su4chris
CHRIS.SU (25) is one of the commanding producers and DJs of the Hungarian scene, among others he has put his country on the map of drum and bass. Since "Astro-Sine", released on Trace's label DSCI4 in 2002, his tunes have been in rotation from drum and bass' finest DJs, including Klute, Teebee, Ed Rush & Optical, Matrix, Digital, Spirit, Concord Dawn, Ill.Skillz, BSE, Pendulum, Bailey, Flight, D-Bridge and Andy C.
Chris' musical career started early, as a cellist he had classical musical training since the age of 7. As soon he got his first PC in 1996 he immediately started producing electronic music in various genres such as hardcore techno, breakbeat and house. He remembers a gig in 1999 with Bad Company as one of his first big inspirations to start making drum'n'bass. A year later he got signed to Subscope Recordings and soon his first 12″ has been released ("Time Warp" b/w "Angel"). Soon he decided to buy his own decks and started DJing, having gigs in the UK, USA, Australia, New Zealand and numerous European countries. Besides his own work Chris has made various collaborations, including Desert Siege (Commercial Suicide, 2004) and What's Happening (Hosptial, 2006) with SKC. He is also a member of a group called TACTILE consisting of five fellow artists: SKC, Longman, Bratwa, Safair and Chris.SU himself. Their debut album SUPER SYSTEM (4×12 LP) was recently released on Timeless Recordings.
OUT NOW
Chris.SU & State Of Mind – Deeper / Tactile – Hangover [Advanced Recs]
Chris.SU & Concord Dawn – Sacrifice / Chris.SU – To Heal [Critical]
State Of Mind – Sun King (Chris.SU Remix) [CIA]
Chris.SU & State Of Mind – Surreality [Shogun Audio]
Concord Dawn – Man For All Seasons (Chris.SU & SKC Remix) [Uprising]
Chris.SU – Solaris VIP [Subtitles
OUT SOON
Chris.SU – Consciousness [Renegade Hardware]
Chris.SU & Concord Dawn – Scream To The Stars / The Ice Age [Commercial Suicide]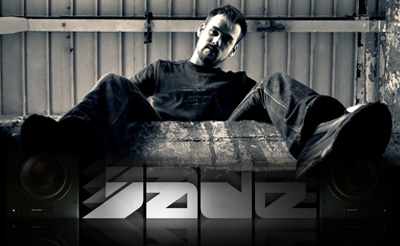 JADE (Black Sun Empire, 1210, Moving Shadow, Project 51, Citrus) Budapest, Hungary
http://www.myspace.com/jadednb
JADE aka Gábor Simon, also heralds from Budapest Hungary, the home of many well known European producers. He began making music in 2000 along with Matt-U, which culminated in the release of their debut 12" Got Lost in 2004 on BSE Recordings. The pair went on to put out a string of successful records on labels such as Moving Shadow, 1210 and Citrus. Now a fully fledged solo artist in his own right, Jade leads the pack when it comes to dance-floor tech focused drum and bass. A masterful audio engineer, his tunes always have a distinctive sound that is often imitated but never beaten. Keep an eye out in the future for more top releases, including a 12 for Gridlok's Project 51, and an EP on Citrus.
Moreover, his debut LP is due to hit the shelves late 2008.
CHRIS.SU + JADE will be playing in Hong Kong on Sat, 02. August 2008!
Keep your eyes peeled…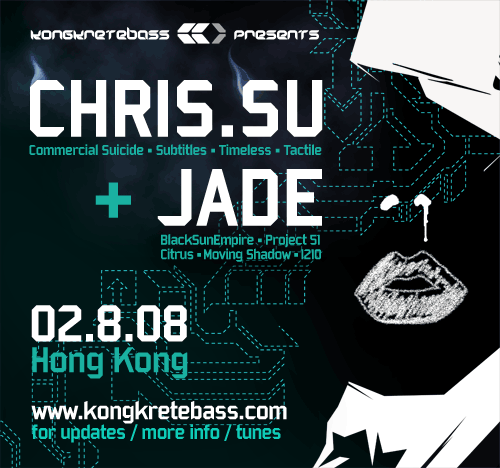 ++++++++++++++++++++++++++++++++++++++++++++++++++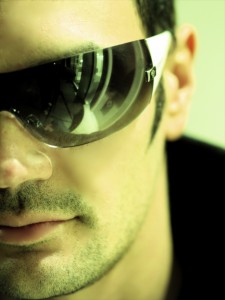 SHIMON (Audio Porn, Ram Records/UK)
http://www.myspace.com/shimonram
SHIMON CONTINUES TO GO FROM STRENGTH TO STRENGTH FROM RAM RECORD'S NOTORIOUS "TRILOGY" COLLECTIVE AND AS ONE OF THE SCENE'S MOST TALENTED PRODUCERS AND WICKED DJS – DOA
Shimon is a drum and bass legend. Responsible for some of the most influential d&b tracks of all time, many of which are said to have 'shaped the sound of D&B as we know it. For over a decade Shimon has been smashing up dance floors around the globe, week-in, week-out at the biggest parties, clubs and music festivals.
Shimon is a respected and sought after producer, from the many remix offers he receives to being approached by Novation to produce sounds for their new Xio Synthesisor, Shimon's studio skills along with his performances are recognized & highly appreciated the world over.
"SHIMON BRINGS THE GOODS TIME AND TIME AGAIN" – ATM MAGAZINE
Born and bred on rock Shimon is a self-confessed 'Floyd Head.' His awareness and fervour for music became even more apparent when, in his adolescent years, he discovered dance music and, on a weekly basis began sneaking into now legendary rave nights – 'Elevation,' and 'A.W.O.L' at 'Paradise Club.' The flourishing dance music culture consumed him and Shimon was convinced this was his future.
Soon enough, Shimon earnt the money to buy his first set of turntables from his uncle and learned to mix. His next purchase, a sampler, brought about an epiphany Shimon wanted to make the music, not just mix it! Shimon laughs as he reflects upon the 'thousands of hours' spent developing his unique style as well as his production techniques on his Akai 950 and Atari ST computer!
It's common knowledge that you don't become a first class producer and sound engineer overnight, but even so, it wasn't too long before Shimon's individual efforts, in particular a catchy beat and bass line caught the attention of his good friend, DJ and label owner, Andy C.
They immediately joined forces. The result was massive and is arguably one of the most popular Drum & Bass 12"s of all time 'Quest', with 'Nightflight' on the flip. Shimon's professional relationship with Andy C and Drum & Bass' biggest record label, Ram Records had begun. In 1995 'Recharge' was included on Ram Records' first compilation – 'The Speed of Sound LP,' and Shimon became a permanent fixture of Ram.
"SHIMON IS RAM RECORDS' GOLDEN BOY" – KNOWLEDGE MAGAZINE
With more opportunities to play his music to audiences all over the globe than he could physically fullfil, Shimon quickly accepted his place on the scene's most prominent artist agencies, namely Unique Artists and Circle Management.
Shimon's ever increasing profile led to various remix offers, of which he accepted a selected few none more absolute than his awesome and highly acclaimed rework of Dillinja's 'Tudor Rose'.
Shimon, in collaboration with Andy C and Ant Miles engineered the track that became known as 'No Reality,' their collective became known as Ram Trilogy – Ram Records' most successful act to date.
A whole series of Ram Trilogy releases followed, each as successful as the last. Some were collaborations between just two of the three trilogy members. One such release was the truly innovative, Shimon & Andy C anthem 'Body Rock'. No one anywhere had heard anything like it. The track surprised everyone, the biggest surprise being when 'Body Rock' transcended underground to the mainstream, reaching Number 22 in the UK National Charts, which to this day is unheard of for an acoustic Drum & Bass track with absolutely no sign of a catchy vocal.
A surprisingly brief interval was to follow as Shimon and the rest of the Ram crew recognized the need to switch from analogue to digital and master a completely different way of working. This resulted in some of Shimon and Ram Trilogy's most emphatic work to date, some of these including the mighty 'Screamer' and 'Titan' EPs 'The latter, was nominated for various industry awards, including Knowledge Magazine's coveted 'Best Tune of the Year' – 2004.'
After Ram Trilogy's unprecedented and successful series, Shimon turned his attention to some of his best know remixes, such as Zinc's Kinda Funky and Hype's 'Classic Dope Style.' His essential inclusion in the Ram Records- 'Ram Raiders' series included mixing the 'Ram Raiders' Mix CD. 'The Shadow Knows EP' released in mid 2006 took Shimon's touring schedule into overdrive.
"SHIMON KEEPS THINGS TIGHT & ROLLING" – RAM RAIDERS MIX CD – ATM REVIEW
In 2007, Shimon's foray into Nu-Skool Breaks brought forward tracks such as 'I Like You' – a collaborative effort by Shimon & Nixon on the esteemed breaks label Fingerlicking. 'I Like You' as well as 'Around the Edge' and 'White Noise,' all breaks tunes, have been receiving rave reviews and plenty of plays from breaks heavyweights Stanton Warriors, Plump DJ's and Crystal Method, to name but a few.
"A ROLLING DANCE FLOOR DESTROYER SHIMON & NIXON'S 'I LIKE YOU' HAS BEEN CAUSING UNTOLD MAYHEM THROUGHOUT THE LAND" -ATM MAGAZINE
Feeling inspired after experimenting with another genre, Shimon produced the massive Screamer Remix as well as remixes for Matrix & Futurebound and a rework for huge breaks act Slyde.
Shimon has recently launched his own independent label, AudioPorn Records and has been racking up the hours in the studio preparing sure to be massive tracks for release on his own AudioPorn brand. We look forward to it all!
Kongkretebass proudly presents SHIMON in Hong Kong, 5th July 2008.
It's gonna be LOUD! Don't miss it!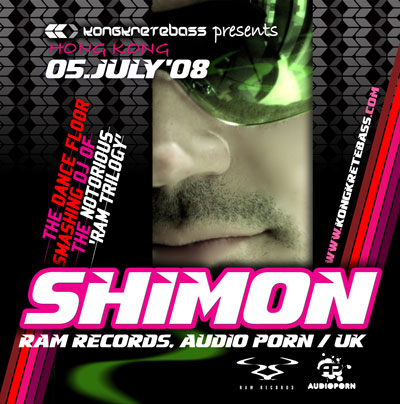 ++++++++++++++++++++++++++++++++++++++++++++++++++
BIG BUD (UK)
Creative Source, Nuphonic, Moving Shadow, Paradox Music, Basswerk ,Vibez, Good Looking Records and Soundtrax Recordings
BIG BUD is the music producer and DJ, Robin O'Reilly. Since his first release in 1994 he has been writing and producing his own music. He has released over 100 tracks including 4 albums, Infinty + Infinity in 1999 , followed up with a double album in 2001, Late Night Blues. 2002 saw the release of a ' producer ' album on GLO. Fast forward to 2005 and the release of another double album, Fear of Flying . From his first release up to his latest he has consistently produced soulful and emotional dance music to critical acclaim.
Having released tracks on various labels including Creative Source, Nuphonic, Moving Shadow, Paradox Music, Vibez, Basswerk and Good Looking Records he now runs his own, the Soundtrax label.
The Big Bud sound has been influenced by over 25 years of listening to Jazz, funk, Soul and Reggae. From attending jazz funk all-dayers back in the eighties thru the big raves of the early nineties up to todays drum and bass clubs he has always been a lover of quality, soulful music. It was after hearing the emergence of tracks with breakbeats that he decided to get involved in producing…
After finishing his first tunes he took them up to seminal dnb club , Speed , and gave them to Fabio. The result was a 3 year stint with Creative Source, releasing a handful of singles. The next stop was Good Looking Records where he spent 5 years producing a steady stream of drum and bass and downtempo cuts. After parting company with them he had to endure a two year period of isolation due to contractual problems. These two years were spent in the studio, stockpiling tracks ready for release when the time was right.
During that time he met DJ Element and was invited to join him in running Soundtrax. To date they have released 19 singles and two albums, Fear of Flying and SOUNdTRAX4LIFE vol.1 – Element has since left the label and it's now under BIG BUD's full control..
Early 2007 saw another album release " The Fear of Flying remix project ". An ambitious project that sees Bud's last album getting the remix treatment from a varied bunch of producers on the scene….From veterans such as Nookie/DJ.Suv/DJ.Red/Beta2 + Zero Tolerance thru to nu bloods like Amaning, Livewire, Henree and Motive it's set to be a diverse and interesting album….
BIG BUD spent most of last 2 years touring the world, most recently Australia and NZ. Other countries he played during that time include: Hungary, Serbia, Russia, Belize, Mexico, Holland, Italy, Slovenia, Croatia , Romania, Germany and the USA. Again Bud is busy spreading the SOUNdTRAX vibe and representing the music that he has spent more than a decade being involved with….
DISCOGRAPHY: here
www.myspace.com/bigbuduk
BIG BUD will be playing Hong Kong for the first time!
Sat, 19th January 2008 @ TWYST MIND
Keep your eyes peeled…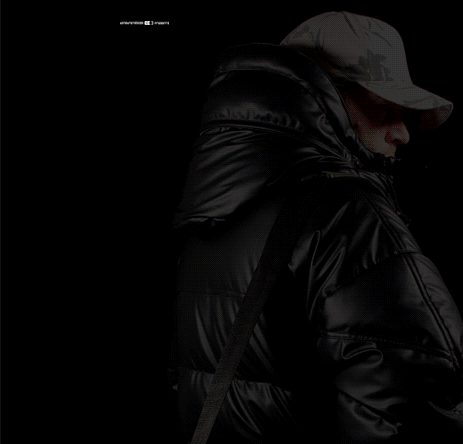 ————————————————————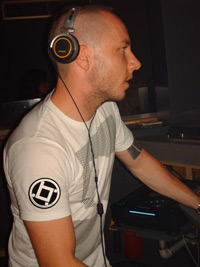 OUTRAGE (Backlash, Metalheadz, Inneractive, Intasound, Commercial Suicide, Rufige, Horizons) Bedford, UK
Outrage (formerly known as DJ Rage) has been closely following drum and bass for over a decade. His first break came at the age of 15 when he gained a slot on Bedford's (UK) pirate radio station Shock FM. It was not long after the broadcast that his vigorous sets began gracing the Bedford area dance floors, catching the attention of fans and future collaborators alike. Outrage would form his first major alliance at the age of 16 when he crossed paths and teamed up with Stomp & Weaver which resulted in his initial production efforts, with the collaborations Check the Flava and Deep in 2 Depth. The affiliation with Stomp & Weaver also helped his career with additional performances, thanks to the inception of two featured club nights hosted by them: Sugar Cubes in Lincoln and Fantasy Island in Skegness. By the age of 18 Outrage's career as a DJ began to flourish. His radio audience extended when he gained a spot on Perception FM, the largest pirate radio station in the Bedfordshire area. His audience continued to grow over the course of the following year when he began hosting a show on London's prestigious Rinse FM and started playing at various events in central Europe, alongside other UK artists. It was also at this time that Stomp had relocated to London and the two began working in the studio; resulting in the duos first major release – Snakes – on L Doubles Flex Records. Soon after Outrage made contact with promoters in New York and Philadelphia booking him for such renowned American drum and bass parties as Direct Drive, Mathematics, and Drink Land.
The year 2000 brought Outrage his most influential alliance yet, when he united with Tronic (now known as Amit) . The two went straight to the studio and over the following two years released tunes featured on such labels as Nu Urban and Chemical Warfare. These successful releases resulted in the pair meeting Digital, the vanguard of dub-influenced drum n bass; further enhancing their production knowledge and skill with his guidance. It was not long after that Outrage was releasing his own solo efforts on such drum and bass labels as L Plates, Fuze, Basement Records, Proper Talent, Intasound, Inneractive Music and the almighty Metalheadz. He has showcased his talent at such festivals as the famous Berlin Loveparade and Hungary's Sziget Festival. Debuting his live PA skills at Amsterdam's Ichione Subversive Renaissance in April 2005, Outrage has also crossed over into the category of a live performer. The notorious emotional atmosphere that is created by his fluxes of diligent breakbeats and fervent bass lines can be heard in his Ableton Live PA.
Now it is 2007 onwards, and Outrage has forthcoming releases on some of the most distinguished labels around, collaborations with equally distinguished artists and some fusion projects alongside Bill Laswell, Herbie Hancock and crew in New York.
This year Outrage also proudly presents Backlash Records, focusing on bringing forth experimental beats to breathe a newfound life into the electronic music scene. Backlash Records embraces the musical taboo and encourages like-minded artists to free themselves from the constraints the music industry has placed on the producer.
Since day one Outrage has been a purveyor of abstract music, providing a unique perspective upon dance floor music. Honing his skills on labels such as Metalheadz, Inneractive, Intasound, Commercial Suicide, and L Plates, he now chooses to continue pushing sounds which explore the depths of the human imagination by encouraging other producers to pursue their own artist endeavors.
With a sturdy past and forthcoming catalogue from some of the greatest free-thinkers in electronic music, this label will be one that caters to a panoramic audience, not as customers, but as listeners. Look for the label to cross cultural boundaries as well as the ever-present generation gap by employing the music as art, and not a consumer product. The first release comes from the owner himself, due for release in May 2007, the beats and atmospheres painting a bitter sweet scene and showcasing Outrage's continuing emergence as an artist (and now label owner) ahead of the status quo.
To support the launch of Backlash Records, Outrage will be touring the UK and Europe from 23rd February till the end of May, and then onto the United States, finishing up the year in Australasia and New Zealand. Also keep an eye out for Backlash merchandise later on this year.
Also due to be launched in 2007 will be Whisper Audio. Whisper Audio was founded in 2006 after drum and bass producers Outrage and Aperture were grace with the vocal presence of siren enchantress Kirsty Hawkshaw. The collaboration was the genesis of a unique hybrid of cutting edge beats and bass, developed orchestration, and ethereal vocal arrangement…a new sound was born. Building upon shared knowledge and individual perspective of the music industry, the three decided to join forces. Their sole pursuit is the development and recognition of experimental music with emphasis on vocal integration. Whisper Audio is their medium…www.myspace.com/whisperaudio
FORTHCOMING RELEASES 2007
Rebelesque Beats – Outrage – Featuring on Bill Laswell`s "Damaged" Project"
Rage – Outrage – Rufige (Headz)
Seduction – Outrage – Horizons Music
Dublites – Mutt (Outrage rmx) – Horizons Music.
Amnesia – Outrage – Horizons Music
10 Faces Of Death – Alpha Omega (Outrage rmx) – Counter Intelligence
OUT NOW
Recall – Outrage – Inneractive Music.
Unholy – Amit and Outrage – Commercial Suicide.
The Tube – Amit (Outrage rmx) – Inneractive Music.
Empty Rooms – Outrage – Metalheadz
Patients / The Rebel – Outrage – Metalheadz.
No Compromise – Outrage – Metalheadz.
Critical Mass / Back Track – Outrage – Intasound.
Shutdown / Bad Dreams – Outrage – Inneractive Music.
Time Check / Buzz – Outrage – L Plates.
Hi Jak – Outrage – Fuze.
The Relic – Outrage – Fuze.
Focus / Timecode – R.A.G.E. – Basement Records.
Crackdown / Crackdown Rmx Tango – R.A.G.E. – Proper Talent.
Countdown / Its Over – R.A.G.E. – Basement Records.
Excess / Method – Tronic and Rage – Nu Urban Music.
The Mango EP – Tronic and Rage – Nu Urban Music.
Rewire / Krush – Tronic and Rage – Nu Urban Music.
Boogie Beats – Tronic and Rage – Chemical Warfare.
Snakes – Stomp and Rage – Flex Records.
www.myspace.com/outrageuk
www.myspace.com/backlashrecordsuk
www.myspace.com/whisperaudio