KONGKRETEBASS SUPPORTS: Sub-Culture (Shanghai) 2nd Birthday feat. DISTANCE (Planet Mu, ChestPlate/ UK) – Sat, 05.12.2009 @ The Shelter, China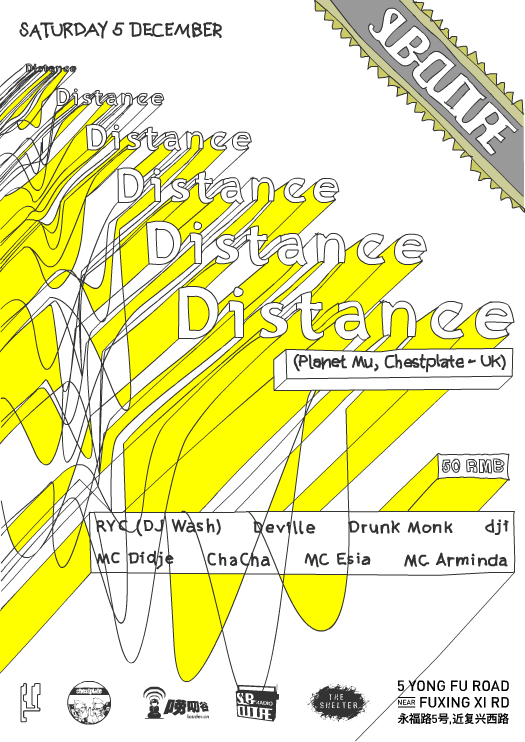 Sub-Culture Presents: DISTANCE (Planet Mu, Chestplate/ UK) @ The Shelter
It's 2 Years of Shelter – 2 Years of Sub-Culture and they are celebrating with one of the heavy weights of the Dubstep scene – DJ Distance (Planet Mu, Chestplate/ UK).
Supported by Kongkretebass' RYC (DJ Wash) and Sub-Culture finest – Deville, Drunk Munk & Dji
Hosted by MC Didje, ChaCha, MC Esia and MC Arminda
Saturday, 5th December 2009, from 9pm.

Venue: The Shelter (Shanghai/ China)
5 YongFu Lu, near FuXingXi Lu, Shanghai, China
中国 上海市徐汇区徐汇区永福路5号(近复兴西路
+86 21-64370400
Entry: Doors open @ 9pm – Late / RMB50
Facebook Event:
http://www.facebook.com/event.php?eid=207184495707


*Picture from DJ Distance's Myspace
About Distance:
http://www.myspace.com/djdistancedub
Part of the small nucleus of South London based Dubstep innovators, Distance has been a name on everyone's lips since day one, and is widely recognized as having helped to lay the foundations of what dubstep is and develop what it has become. Fostering a unique sound, Distance as producer, DJ and label owner has been pushing things in a direction all of his own. Gathering early support from the legendary John Peel and going on to be part of the utterly seminal Dubstep Warz show on Radio 1 presented by Mary Anne Hobbs, Distance has forged a name for himself as a critical figure in the scene.
As a stalwart of the all the biggest dubstep raves (DMZ, FWD and Exodus) and with bookings notched up around the world, he is very much at the forefront of the scene and in high demand. From deep to devastating in one dubplate switch up, Distance truly knows how to tear up the dance. No one does it like him. If you're thinking about booking Distance, make sure your soundsystem hardware is punching well above the weight required for most club music. His dubplate selection will give even the most bass battered set ups a full performance check.
Distance's recorded output is also formidable, finding homes on labels as underground and seminal as Hotflush, Destructive and Boka in his early career, to ending up on the world reputed Planet Mu, on which Distance released his debut album in 2007. Also that year he started his own stable, Chestplate. A label set up with the intention of showcasing the freshest of his own productions which have been destroying dances and flooring radio listeners ever since. After just a handful of releases it is already established as one of the increasingly few, 'buy-on-sight' dubstep labels. The onslaught looks set to continue with the recent announcement of a second full length album for the unstoppable Planet Mu label.
Highlights of his production repertoire include 'V'; a track as heavy as 100 ten tonne trucks that pounds and stomps, crunches and growls. It has torn up dancefloors worldwide since it's dubplate debut and is a perfect example of a track that showcases Distance's fraught and angry production style. Conversely another Distance classic, 'Feel Me', oozes something far less overtly aggressive; all motorik hypnotik groove and ring modulated synth squeel. Distance's studio has spawned multiple stone cold killers over a range of styles but all uniquely Distance, highlighting why his new releases are some of the most highly anticipated in the scene.
Posted: November 19th, 2009 under Dubstep, Gigs out of town, In the region, News.
Comments: none