Kongkast #76 – New Episode Online now!
KONGKAST#76 – new podcast episode
Quick break after the Lynx gig on the 10th January, we are back with a quick mix on Kongkast!
This week, DJ Wash takes the controls with a bass line set of Drum and bass.
Tracks by Nymfo, Icicle, Proxima, Break, Subwave and more.
Also, with the new enhanced podcast – we are trying out different ways to do this, so bear with us while we're ironing out some issues.
If you need the MP3 file, then please feel free to check on our website for the file.
Enjoy and keep checking back at www.kongkretebass.com for more mixes coming your way!
Stay tuned with KONGKAST – Asia's #1 dnb podcast!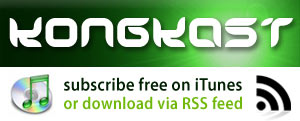 Subscribe to KONGKAST in iTunes – FREE!
Or download directly from our website under KONGKAST
Download MP3 File – HERE
NEW! Download Enhanced m4a File (with images for iTunes) – HERE

+ Track list – Kongkast #76 + by DJ Wash
1) Shy Fx – PlasticSoul (D Bridge Remix)
2) Icicle – Spartan
3) Break – The Truth
4) S.P.Y – Monochrome
5) Inside Info – Clover
6) Zero T and Mosus – Monarch
7) Mako – Officially Jah
8 ) Break – Headz Up
– System – Near Miss
9) Noisia – Crank
10) D Kay and Lee – December
11) Total Science – Fantaziz
12) Nymfo – Cybernetic Disorder
13) Proxima – Clear for Launch
14) Icicle – Late Hours VIP
15) Subwave – Think
16) Lomax – Come and See
17) SpectraSoul – Peninsula
18 ) Break – All around
19) Calibre – New Cons
20) The Function – Get Up
21) SPY – Seeing Thru Shadows
22) Nymfo – Indemnity
23) Shy Fx – Bammaata (Break Rmx)
24) Zero T – Resonable Doubt
25) Break and Survuval – Sick
26) Vicious Circle – Access All Areas
27) Die and Break – Coming from the Top
Audio clip: Adobe Flash Player (version 9 or above) is required to play this audio clip. Download the latest version here. You also need to have JavaScript enabled in your browser.
Posted: January 21st, 2009 under Drum & Bass, News, Tunes & Mixes.
Comments: none