KONGKAST#86 – feat. S.P.Y (Soul:R, CIA, Innerground, Metalheadz /UK) & Riya (CIA, Soul:R, Commercial Suicide /UK)

KONGKAST brings to you a special guest mix featuring S.P.Y and RIYA (Soul:R, CIA, Innerground, Metalheadz, Commercial Suicide/ UK) – two of the hottest rising talents in the Drum and Bass scene.

Brazilian born, London-based DJ/ Producer S.P.Y is no stranger to big tunes and big labels. Boasting quite an impressive release schedule lined up in 2009, on Soul:R, Innerground and CIA just to name a few, S.P.Y is quickly becoming a prolific artist, receiving passionate support from the biggest figures in the scene.
RIYA, is a quickly emerging talented female vocalists in the scene. Being featured in collaborations with the likes of Bungle, Zero T, Total Science, SKC and State of Mind, her lyrical diversity gives each track and performance their unique sparkle
Check out this shining combo in the mix exclusively for Kongkretebass' KONGKAST!
We send many thanks to S.P.Y and RIYA for bringing this special set to KONGKAST – Hong Kong's podcast for dnb and dubstep.
Now get on the download… listen in and enjoy!
Subscribe to KONGKAST in iTunes – FREE!
Or download directly from our website under KONGKAST
NEW! Download enhanced m4a File (with track markers and pictures) – HERE
Download MP3 File – HERE
Track listing and more about S.P.Y & RIYA below…


TRACKLIST//
KONGKAST #86 – feat. S.P.Y (Soul:R, CIA, Innerground, Metalheadz) vs Riya (CIA, Soul:R, Commercial Suicide)
01 – BLU MAR TEN – Above the words
02 – 8 BITS ft Riya – On Your Mind
03 – LENZMAN feat JO S – Fade Away
04 – BCEE – Glitter Balls
05 – BLU MAR TEN – Believe me
06 – 8 BITS – So Good
07 – S.P.Y – Elite Squad
08 – S.P.Y – Moving in Circles
09 – TOTAL SCIENCE – Archive
10 – S.P.Y – Asbo
11 – S.P.Y feat Riya – Rebirth
12 – S.P.Y – Sunship
13 – LENZMAN – Emerald
14 – FABULOUS – The words of love (Makoto RMX)
15 – MARKY AND MAKOTO – Stressed Out
16 – BCEE – Generations (S.P.Y RMX)
17 – TOTAL SCIENCE – Soul patrol – (Marky AND S.P.Y Jungle Remix)
18 – S.P.Y – Legacy
19 – TOTAL SCIENCE – Nosher (Marky AND S.P.Y Remix)
20 – Random Movement AND S.P.Y – Forgotten Mother
++++++++++++++++++++++++++++++++
About S.P.Y (Soul:R, CIA, Innerground, Metalheadz/ UK)
http://www.myspace.com/spymusicpage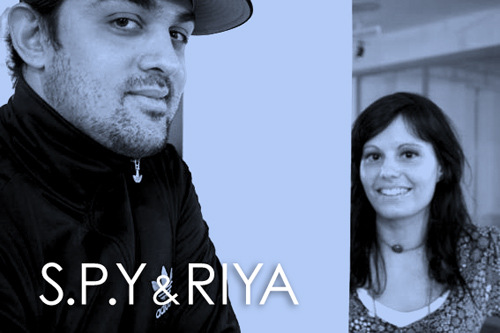 Brazilian born Carlos Lima aka S.P.Y is fast becoming one of the hottest talents in drum and bass. With over 28 different tracks forthcoming on a wide selection of imprints including: Soul:r, Innerground, Liquid V, Critical, Advanced, CIA, Spearhead, and Cylon Records, he is a perfect example of a truly versatile producer. His music is regularly supported by the likes of Marky, Goldie, Marcus Intalex, Total Science, Commix, C.A.B.L.E, Bailey, Bryan Gee, and Doc Scott to name a few, and his production techniques are also the topic of conversation on many message boards. Just how did his career in music begin?
Passionate about, and affected by, a mass of superlative music around him S.P.Y knew from the age of 12 he wanted to be a DJ. While his friends played football, S.P.Y was more interested in watching DMC championship videos and finding ways to get himself heard, DJ'ing regularly at local charity nights and school events, playing everything from hip-hop, to jazz, to disco.
In 1992, Carlos became a frequent fixture at an underage matinee club. DJ'ing every Sunday afternoon, playing acid house and techno to the crowds that wanted to listen, Carlos was completely dedicated to making people dance.
In 1996, the musical landscape had begun to shift in tandem with S.P.Y's taste in music. Carlos moved away from acid house and techno and turned his hand to the dark and deep depths of jungle and drum and bass.
Working alongside a huge network of DJ friends, Carlos weaved his way to the top of many promoters lists, and before long, he was playing in a multitude of nightclubs, entertaining thousands with a selection of his most favourite drum and bass tracks.
Come early 2000, Carlos could no longer pursue his musical dream. The level of external pressures and responsibilities on his shoulders were grand. Instead he took a job as a full-time junior graphic designer. Carlos stuck at this for three years, fast moving up the ranks. But as good as Carlos was at this, it wasn't enough for him.
In 2003, S.P.Y took the brave step of migrating to the UK to study English. Fascinated by the records shops of Soho, Carlos spent his afternoons off checking the latest releases and searching for the trendiest emergent styles of the underground scene. The buzz Carlos got from doing this affirmed that music was his calling.
Just one year later, and S.P.Y was impressing punters with his tune selections at a Camden Town festival: 'Jam by the Lock' after winning a prime time DJ slot in a mix competition. As a result, the manager of the club in which the festival was held in – Dingwalls – offered him a residency at their weekly drum and bass night: 'Hotbeatz'.
Later that year, S.P.Y took the next step to achieving his dream by buying a Mac computer. Although this was primarily for his design work, he soon developed an affinity with Garageband. When Carlos heard about Reason he made the switch. Six months later, his debut track ''Til Dawn' had been signed to Metalheadz and was released as part of the Winter of Content album.
In 2006, S.P.Y was snapped up by Hospital Records/ Med School and released two singles on the Med School imprint entitled 'Black Flag'/ 'Double Dragon' (Medic001) and 'Ghost Ship/ 'Silent Sleeper'. Both tracks received strong critical appraise, and served as the perfect platform for DJ work, with Carlos booked for gigs worldwide including Hospitality in the UK, and Europe.
In 2008, S.P.Y's contract with Hospital came to a close. This was the perfect opportunity for Carlos to experiment with new sounds, technologies and different music software, including Ableton Live. The switch to Ableton allowed S.P.Y to take his production to the next level, improving on the sound quality, and giving him the ability to work with audio. Since then, he has gone from strength to strength.
2009 marks the start of exciting things to come for S.P.Y.  As the year draws on, we will see the slow trickle of the 28 releases he has signed on Soul:r, Innerground, Liquid V, Critical, Advanced, CIA, Spearhead, and Cylon Records but also the arrival of more collaborations under the Damage Inc moniker, and with artists Marky, Total Science, Kiat, Miri and Ell. Having just signed to Drum and Bass Arena DJ agency, Carlos will be gigging a lot more UK wide and worldwide, so watch out for him in a town near you.
(Words by Laura Pacheco.)
++++++++++++++++++++++++++++++++
About RIYA (CIA, Soul:R, Commercial Suicide /UK)
http://www.myspace.com/riyamusicpage
Laura Pacheco, aka RIYA, is a rising star, straight out of the Midlands. At the tender age of five and the youngest of a talented musical family, Riya began to sing along with her father and sister and thus a talent was realised early on.
Although Riya had managed to master a plethora of instruments including the French Horn, Clarinet, Keyboard and Piano, the passion and true creativity came from her vocals; and as with many aspiring musicians and vocalists, the induction to live performance came via school and gospel choirs and stage shows including lead roles in Snow White and Annie, amongst others. Further inspired by music in it's many guises, Riya was more than proactive, and aged 13 acquired her first industry related work experience placement at a local recording studio, and from here on in, everything was a road to her goals.
Whilst at the studio, Riya's vocal talents came to the fore, and it wasn't long before she was being asked to add backing vocals to ongoing productions and so came her first piece of professionally recorded music, a Garage track entitled "Make A Move On You". Once word spread that there was a new girl on the scene with an amazing voice, it wasn't long before every local band with a penchant for fesh talent was knocking on her door.
Every musician has a passion though, that one genre of music or a certain sound that elevates them and gives them the drive and determination to create, and for Riya this has always been Drum & Bass, having been introduced to the underground scene by her brother. But it wasn't until 2004 when she moved to London that the dream became more than a distant reality, when a chance of work experience with DnB super-label Hospital Records came along. This was a massive stepping stone for Riya, as she utilised the opportunity to build on the PR contacts she was obtaining and began to form solid, professional relationships with labels such as Breakbeat Kaos, C.I.A., Critical and Defcom, and as a result, the means to get her awesome vocals heard by the biggest players in the genre.
"I think I just sent some vocals over to Klute randomly and they were used on 'Were All Dying' and 'Come Back to Me'. Then SKC heard the Klute tunes and asked me to work with him, then Bungle, then Total Science again, and then Zero T most recently."
It is fair to say that Riya's career has gone from strength to strength and with 2009 in its infancy, the future looks extremely bright already. Work has started on a raft of tracks with new Brazilian flavour S.P.Y., with whom Riya also plans to tour later in the year, and tentative plans have been made with the likes of DJ Marky, TC, Chris SU and Marcus Intalex for collaborations on new tracks.
(Words by Calvin Reid)
Audio clip: Adobe Flash Player (version 9 or above) is required to play this audio clip. Download the latest version here. You also need to have JavaScript enabled in your browser.
Posted: May 4th, 2009 under Drum & Bass, News, Tunes & Mixes.
Comments: 1
Comments