KONGKAST#88 – feat. Aaron Jay (Swerve, Influence Records/ UK)

Kongkretebass KONGKAST #88 is out! Eighty-eight is a very auspicious number in Chinese culture and lucky for our listeners also. As this week on KONGKAST, we bring you an episode with one of the resident DJs of THE legendary Drum and Bass night "Swerve" in London, UK.
Aaron Jay (Swerve/Influence Records) has performed in some of the best clubs/club nights including Fabric, The End (RIP), Heaven, Bar Rumba, ledendary "MetalHeadz Sessions @ The Blue Note" and many more. For the 88th episode of KONGKAST, special guest Aaron Jay brings a deep track selection which includes some of this own imprint's "Influence Records" forthcoming releases. Serious roll-out business in the mix, check this out!
We send our thanks to Aaron Jay for bringing this special mix to our listeners of KONGKAST – Hong Kong's podcast for dnb and dubstep.

Now get on the download… crank up the volume and enjoy!
Track listing and more about Aaron Jay below…

Subscribe to KONGKAST in iTunes – FREE!
Or download directly from our website under KONGKAST
NEW! Download enhanced m4a File (with track markers and pictures) – HERE
Download MP3 File – HERE


TRACKLIST//
KONGKAST #88 – feat. Aaron Jay (Swerve/Influence Reocrds, UK)
(title  – artist – label)
1. She Got Me – Glen E Ston and Flaco (INFLUENCE RECORDS DUB)
2. Model Way – Calibre (Signiture)
3. Bucktown – Andy Skopes (DUB)
4. Cold World – Lenzman (DUB)
5. Follow my own path, dig my own grave – Mix Master Doc and Random Movement (DUB)
6. Snow – Seba (DUB)
7. The Trendy Track – Bal (INFLUENCE RECORDS 'The Out There' EP DUB)
8. Organizer – Spectrasoul (DUB)
9. Remendy – Calibre (Signiture)
10. Dead Mans Chest – Eveson (DUB)
11. This is drum and bass – K-Dan (DUB)
12. Close Call – Beta 2 (DUB)
13. Guiding Star – Delta and Format (INFLUENCE RECORDS DUB)
14. Red Glass – Digital Hunters – (Inner Ground DUB)
15. My Sentimental Moods – Makoto (Creative Source DUB)
16. Ringtone – Calibe (Signiture)
17. Cold Days – Jaybee (INFLUENCE RECORDS DUB)
18. Can't say goodbye – Glen E Ston (INFLUENCE RECORDS DUB)
++++++++++++++++++++++++++++++++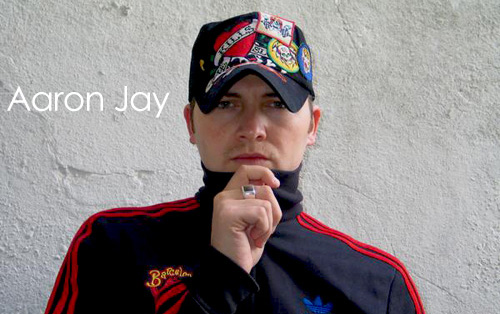 About Aaron Jay (Swerve, Influence Records, 31 Records/ UK)

First spinning records over a decade ago after being turned on to the sound by the infamous Metalheadz Sunday sessions at The Blue Note, he secured a residency at Fabio's legendary weekly Swerve back in 2004. Aaron's gone on to play at some of the best clubs, including Fabric, The END, Heaven, POGO (Dublin), Bar Rumba, Dojo Lounge (Bristol), Ministry of Sound radio and Herbal to name but a few.
His reputation has inevitably blossomed since, as have his skills in the studio. Having recently hooked up with Lynx (Soul:r/Creative Source), the pair have conjured up some spectacular tracks, with 'The Mule' and 'Wait For Me' on Doc Scott's 31 Records LP, with other releases lined up on Aaron's label, Influence Records.
Influence is a very personal label to Aaron, pushing forward-thinking, deep, atmospheric drum and bass, a reflection of what Aaron plays. With the likes of Data, Soul Intent, ICR, RawQ, Bal, Eveson, Delta and Format, Sinistarr and Lynx signed to the label, it appears set for big things. Aaron can regularly be found mixing the most upfront deep Drum and Bass around at Swerve.

www.myspace.com/djaaronjay
www.myspace.com/influencerecordsdnb

Posted: May 24th, 2009 under Drum & Bass, News, Tunes & Mixes.
Comments: 2
Comments