KONGKAST #116 – FEAT. Concussion Crew (Finland) ONLINE NOW!

KONGKAST number 116 features a low frequency crew from Finland – The Concussion Crew (Finland).
Made up for three members (Elysion, M-za & Stinks), The Concussion Crew have done it all. From Radio/website host, to being in the finals of a top National DJ Championship "LazerPoint", to hosting parties in different clubs and smashing it down "Finns" styles here in Hong Kong! (Yes Stinks is a stinker on the 1s&2s!) – This crew has only one thing in mind "Bassweighty Music".
Kongkrete Bass have had the pleasure to meet one third of The Consussion Crew – Stinks – here in Hong Kong, we have been nothing but impressed with his taste in Dubstep music and we have been extremely keen to see what kinda flavors of Bass Music they're into in Finland, and we were NOT disappointed! This Dancefloor concentrated mix of Drum and Bass & Dubstep is defo a good representation of what their definition of "BassWeighty". BIG UPS!
Big Up to Elysion of the Concussion Crew for repping his crew with this exclusive mix on this week's KONGKAST – Asia's drum n bass and dubstep podcast.
Directly download enhanced m4a File (with track markers and pictures) – here
Directly download MP3 File – here

Subscribe to KONGKAST in iTunes – and receive all future and past KONGKAST mixes – it's FREE!

TRACKLIST:
KONGKAST #116 – FEAT. CONCUSSION CREW (Finland)
(Artist – Track)
1. Drumsound and Bassline Smith – R U Ready
2. The 175 Crew – 175 Vol1 (Crystal Clear Remix)
3. Mutated Forms – Lucid Dreaming4. Dirtyphonics – Vandals
5. Hamilton – Send em to hell
6. Dusty and Dangerous – What's the Problem
7. Dub Zero – Style
8. Vital Elements – The Ripper
9. Dangerdogg – Push it (VIP)
10. Camo and Krooked – Synthetic
11. High Roller – Oblivion
12. Dusty – Hidden Pipebomb
13. D-Minds – Maniac Pipebomb
14. Original Sin – Therapy
15. Noisia – Machine Gun (Spor and 16bit Remix)
16. Numbernin6 – Nebulous
17. L-Wiz – Mexter Dorgan
18. Dirtyphonics – Quarks
19. Raiden – Hubble
20. Nero – Act Like You Know
21. Rawtee – Waste
22. Kaleb – Terminal Disco
23. Clipz – Give it to Me
24. High Roller – Untouched
About Concussion Crew:
http://concussioncrew.info
The Concussion Crew is all about breakbeats… or at least is now, there was a bit of a housey period in there too, but all good now…
Anyways, Three lads, deejaying, event organizing, party crashin', the lot, you know… Got a radio show too! Yeah, on NuBreaks.com, brilliant! With a video stream, oh and a sampler! But you know, it's all about the music, breaks, beats, bass, wobble and those weird wonky sounds.
So what we got… well, there's this guy called elysion. Nowadays more into dnb stuff, neuro, liquid, clownsteppin… oh, and the tear-ya-face-off dubstep! Then we got M-za, who's this bearded fella, more into dubstep than the above chap, but has also a weird passion for the old jump up dnb sounds. Last but not… um… … there's Stinks. This guy's really up to date on the new things in the scene… The *steppin' and the wonk. Had a mustache, which was fantastic! But that's gone. Oh, we got a VJ too! Talented bloke, geared up to his teeth with electronics n stuff. Anyways, proper stuff, but nothing too uptight, you know.
But hey, want more info? Check: http://concussioncrew.info. Mixes, bloggin', promos innit!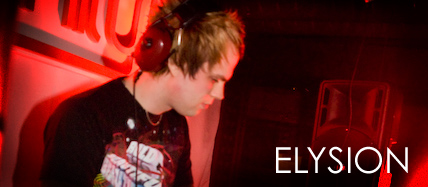 Elysion started to host his own Northern Hemisphere radio show on Digital Vibes radio in 2007, founded Concussion in late 2007 and soon we got our fortnightly radio show on NuBreaks.com. In 2008 Elysion was in the finals of a big national DJ competition, Laserpoint.
Besides Concussion, M-za is also hosting two different clubs in Tampere: Groovy Goose and Funkin' Up Your Wednesdays, where he teams up with guest DJs to play soul, funk, house etc. So we all come from very different musical background, which makes our parties and radio shows interesting blend of various styles that just fit under the definition "bassweighty music".
Our VJ, dep, is an integral part part of our group, and we pay lot of attention to the decorations and visuals of our parties aiming to make our events an audiovisual experience. We make the venues look like Concussion.
Stinks familiarized himself with electronic music in mid-90s in the form of tracker music. After phases of listening to rave, happy HC, trance, techno, underground hip hop and reggae, the dubstep wave hit Finland just when Stinks was looking for something totally different and new. Since 2006 he has lost his heart to dubstep. For him, versatility is the core of dubstep and Stinks is using the whole scale from monotonic technoesque dubstep to organic and wonky rhythms.
For two years, Stinks has been active in Concussion Crew, arranging bassweighty parties in Finland and webcasting music around the world in Concussion Shows. Also following closely the new winds in contemporary club music scene, Stinks isn't afraid of using unorthodox elements in his dubstep sets.

Audio clip: Adobe Flash Player (version 9 or above) is required to play this audio clip. Download the latest version here. You also need to have JavaScript enabled in your browser.
Posted: May 27th, 2010 under Drum & Bass, Dubstep, Gigs out of town, Tunes & Mixes.
Comments: none