KONGKAST#91 – HEAVY Mixtape01: Mixed by N1D (Hong Kong Local Dubstep artists Production mix )
Kongkretebass KONGKAST #91 is here!
This week, we have an ultra special podcast edition – HEAVY MixTape01: Mixed by N1D (Hong Kong/Macau/China regional Producer's mix tape).
Big Ups to the Heavy massive for this mix. As their 3rd year Anniversary earlier this year, they gave away this mix to mark the special occasion. This mix has been aired on radio and net-radio in Shanghai, Bangkok and Singapore, and now, Kongkretebass will broadcast it around the world on Kongkast podcast for your listening pleasure!
Tunes by HEAVY's very own Blood Dunza, N1D and Kastoacha, as well as good friends Rebearth, Didjelirium on the vocals and not forgetting Kongkretebass' Electronic Mistress and RYC (DJ Wash).
All exclusive tunes produced locally by the few of Hong Kong/ Macau/ China's producers.
We hope you enjoy this mix and feel free to drop the artists a line on myspace!

Don't forget, this weekend's madness with Kongkretebass and HEAVY co-presenting New Zealand's TRUTH!
Event details here: Kongkretebass & HEAVY Presents: TRUTH (Deep Medi /NZ) – FATMAN TOUR 2009,  Saturday, 27th June 2009, in Hong Kong!

Check out Event page on Facebook for the TRUTH "Fatman Tour" @ Hong Kong
http://www.facebook.com/event.php?eid=92276776603
http://kongkretebass.com/kkblog/?p=838
But first, everyone get on the download… crank up the volume and enjoy!
Subscribe to KONGKAST in iTunes – FREE!
Or download directly from our website under KONGKAST

NEW! Download enhanced m4a File (with track markers and pictures) – HERE
Download MP3 File – HERE

Check out and join us @ KONGKAST Facebook Page.
Track listing and more about HEAVY MixTape01 Artists below…


TRACKLIST//
KONGKAST #91 – feat. HEAVY Mixtape01: Mixed by N1D (Hong Kong/ Macau/ China regional Producer's mix tape).
(artist – track title)
1. Kastoacha – Kanos Bar
2. Electronic Mistress – Nightrider
3. N1D and Didjelirium – Moonshine (EVOL Inside version)
4. Blooddunza – Strong
5. Didjelirium – You Think (Blooddunza Remix)
6. RYC (DJ Wash) – LaFem Dub
7. N1D – Fall
8. Kastoacha – Glider
9. N1D – Sunshine
10. Blooddunza – Good or Bad
11. Electronic Mistress and RYC (DJ Wash) – Enchanted
12. Rebearth – Rolling Uphill (pre.re.lease.re.mix)
13. Blooddunza – Choice
+++++++++++++++++++++++++++++++
About Heavy: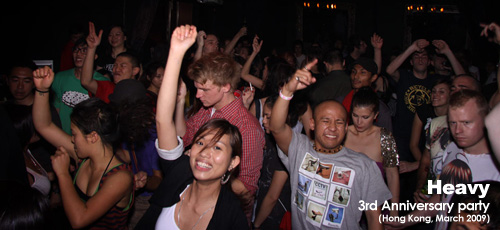 The HEAVY crew was founded in 2006 by Hong Kong fella Blood Dunza, trying to satisfy the urge for a heavier sound of drum & bass in the city. This year 2009 marks the 3rd anniversary of the crew, that has grown to be the most daring and versatile underground electronic music promoter for the local scene and has succeeded to tightly anchor its teeth in the underbelly of Hong Kong's nightlife.
HEAVY is best known for tirelessly pushing the scene by taking emerging DJ and MC talent under their wing, regardless of their background, and exposing them to the forefronts of their artist lineup at their many infamous HEAVY events, now spanning from Reggae, Dancehall, Dub, Dubstep to Drum and Bass in all forms. Give them props!
http://www.myspace.com/heavyhongkong

Heavy Mixtape artist links:
Blood Dunza - http://www.myspace.com/heavyhongkong
N1D - http://www.myspace.com/n1d
Kastoacha - http://www.myspace.com/kastoacha
Electronic Mistress - http://www.myspace.com/electronicmistress
RYC (DJ Wash) - http://www.myspace.com/djwash
Rebearth - http://www.myspace.com/rebearthmusic
Didjelirium – http://www.myspace.CN/didjelirium

Audio clip: Adobe Flash Player (version 9 or above) is required to play this audio clip. Download the latest version here. You also need to have JavaScript enabled in your browser.
Posted: June 26th, 2009 under Dubstep, News, Tunes & Mixes.
Comments: none