New mix! Kongkast # 117 – feat. FORSAKEN (Soul Motive, Immerse, Punch Drunk/ Bristol, UK)

KONGKAST number 117 proudly features Bristolian producer FORSAKEN, whose original productions span flavours from dubstep, garage and grime to house music.
Forsaken is Pete Thomas, label co-owner of Soul Motive and one of Bristols super creative breed of music makers. Obsessed with combining all his influences in his creations, he released on two of the most highly acclaimed Dubstep labels, Punch Drunk and Soul Motive, soon turning heads in the scene to critical acclaim. Though not hugely appealing to just any dance floor situation, Forsaken music is much more appreciated as a creatively sculpted intricate listening experience.
Isola Dusk is Forsaken's latest musical project – a collaboration of 3 established artists (Forsaken himself, Ben Blackmore on guitars & a vocalist Alice Marie-Archer) weaving influences from broken beat, blues, folk, dubstep and house into a unique new sound.
With this week's exclusive mix, take a peek at what currently inspires the Forsaken mind.
Many thanks, Pete, for sharing your selection on KONGKAST – Asia's drum n bass and dubstep podcast.
Directly download enhanced m4a File (with track markers and pictures) – here
Directly download MP3 File – here

Subscribe to KONGKAST in iTunes – and receive all future and past KONGKAST mixes – it's FREE!

TRACKLIST:
KONGKAST #117 – FEAT. FORSAKEN (Soul Motive/ Bristol, UK)

(Artist – Track)
1. Way Out West – Blue
2. Sound Stream – Live Goes On3. Fourtet – Love Cry
4. Fourtet – Sing
5. Isola Dusk – Waiting for You
6. ST Files – BeGood
7. Dusk – Focus
8. The XX – Crystallised (Dark Sky Rmx)
9. Peverelist – Erstwhile Riddim (Forsaken rmx)
10. Bonobo – Eyes Down (Warrior One Rmx)
11. Headhunter – Luvdup
12. Instra:mental – Tramma
13. Pangaea – Router
14. Coleco – Under
Running time: 51 minutes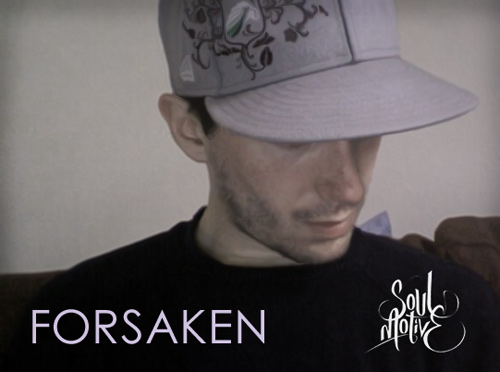 Co-founder of Soul Motive and one of the most creative producers around, Forsaken has created some of the most electrifying music in recent years with a string of releases that defy all genres and create some new ones in the process.
Debut release Boat Noodles on Punch Drunk was so different to the glut of Dubstep records that it instantly found favour with DJs like Mary Anne Hobbes and Gilles Peterson.
Forsaken invests his music with a sense of cinematic glamour – beats and strings invoke widescreen visualisations of places past that few producers can match.
Forsaken recently started a band called Isola Dusk, you can listen to some of their songs here: http://soundcloud.com/soul-motive/sets/isola-dusk-demo
Discography:
Releases on: Soul Motive, Punch Drunk, Immerse, and Dubculture
Thunder (b/w Sitar Dub by Diem) – Immerse – IME003pt2
Victory b/w Sureskank – Forecast Recordings (Free) – 4CAST001
Boat Noodles b/w Erstwhile Riddim Rmx (Original by Peverelist) – Punch Drunk – PD006
Hypnotised b/w Fighting Spirit – Immerse – IME008
Last Saloon Swagger b/w Into the Sunset (feat. Ben Blackmore, Joker and Mr.Jo) – Soul Motive – SMR002
Rumble Rmx (Original by Tyronn) (b/w Various) – Je m'en fish – JMN001
Same Old Excuse (b/w Skitter by Kanobi) – Dub Culture – CULT002
That Thing She Does Rmx (Original by Sines) – FRMNTSP01
Links:
http://www.soulmotive.co.uk
http://www.myspace.com/forsakendubstep

Audio clip: Adobe Flash Player (version 9 or above) is required to play this audio clip. Download the latest version here. You also need to have JavaScript enabled in your browser.
Posted: June 24th, 2010 under Dubstep, Other, Tunes & Mixes.
Comments: none